Railways 'dead zones' for mobiles, report reveals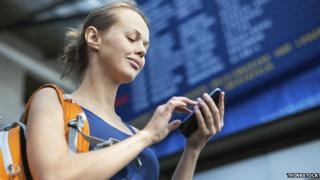 A comprehensive test of the state of mobile connectivity on Britain's busiest commuter routes has revealed much of the rail network is a blackspot for coverage.
The research, by Global Wireless Solutions (GWS), found one in three mobile internet tasks failed, as did one in seven voice calls.
Engineers tested the 10 most popular routes in and out of London.
GWS described many of the trains it had tested as "mobile dead zones".
Engineers travelled along 10 routes:
Charing Cross to Sevenoaks
Charing Cross to Dartford
Euston to Watford Junction
Fenchurch Street to Ockendon
Liverpool Street to Broxbourne
Liverpool Street to Manor Park
St Pancras to St Albans
St Pancras to Elstree and Boreham Wood
Victoria to Oxted
Waterloo to Epsom
It used Samsung Galaxy S4s to gather data, using SIMs from each of the four major UK operators.
An interactive map detailed operator failures at each part of the journey.
Three proved to have the best network for voice calls
Vodafone's subscribers got the best 3G data service
EE won best 4G service
But the research also found EE, O2 and Vodafone all heavily relied on their older 2G networks to cover commuters.
And commuters having to use 2G networks to route their calls were most likely to experience poor call quality.
Three's director of network strategy, Phil Sheppard, said: "2G simply can't deliver decent data speeds or the same quality of voice experience an advanced network provides.
"We will build on this to further improve our customers' experience by adding more mast sites and adding low-frequency spectrum to reach even more people on the move."
EE said it was "proud to be the best 4G network" and "would take on board the 3G findings".
"We are investing in improving voice and data quality for the UK's busiest road and rail routes to ensure all our customers get the best experience, and that will continue on into 2015."
Worst station
Paul Carter, chief executive of GWS, said: "Pressure from commuters makes it inevitable that trains won't keep their status as mobile dead zones for much longer.
"It'd be great to see networks, rail operators and station-masters taking the lead on improving connectivity for commuters - rather than having to be dragged into the 21st Century kicking and screaming."
One in four data-task failures occurred while trains were in stations, and one in five on open track.
Voice calls were more likely to fail on open track than in a station, and the most failures occurred when a train was travelling above 50mph (80km/h).
St Pancras was the worst-connected station, with engineers experiencing an average of 99 voice and data failures across all four operators while testing at the station.
"It's hard to believe we're in 2014 and in a situation whereby a trained wizard would have a tough time getting a signal on the Hogwarts Express while it's sitting in St Pancras," said Mr Carter.