UK cable broadband internet speeds 'faster than fibre'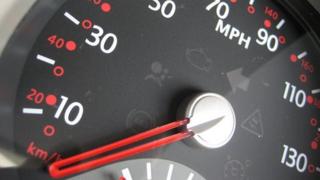 Internet connections in cable broadband homes are faster on average than those using fibre, Ofcom research suggests.
Average cable speeds were measured at 43.3 megabits per second (Mbps), compared with 42 Mbps for fibre.
This was partly because many cable customers had upgraded to a faster service, the regulator said.
The most common type of broadband ran at 7.4 Mbps, however, and Ofcom found a big difference remained in the average speeds in cities and rural areas.
But it said the difference was narrowing - in rural areas, average speeds were now about 13.6 Mbps, compared with 22.9 Mbps in suburban areas and 33.4 Mbps in cities.
In Ofcom's nomenclature "cable" means ISP Virgin Media and "fibre" refers to the other big domestic ISPs it samples when drawing up statistics.
Technical restrictions
The report found average browsing speeds were 18.7 Mbps in the first half of this year across all UK home broadband services.
The 8% increase on the average speed on cable broadband connections, to 43.3 Mbps, meant these overtook the average speed seen on fibre connections for the first time.
Ofcom logged fibre services as running at 42 Mbps on average.
It said as well as customers changing internet packages, the fall in average fibre speeds was caused by more people choosing the lower tier of fibre services, which operate at "up to" 38 Mbps, rather than faster speeds running at "up to" 74 Mbps.
Andrew Ferguson from the Think Broadband website said the way a lot of fibre was implemented in the UK suggested cable would offer higher speeds for some time.
Many services only ran fibre to a street cabinet (known as FTTC) rather than direct to a home (FTTH), he said.
"The technical maximum is around 120 Mbps for FTTC and that's if you are the house next to the cabinet," he said.
In the UK, the maximum FTTC speed sold as a service from provider Openreach is around 80 Mbps.
Virgin Media said that it too used fibre to cabinets near customers' homes. It added that its network differed from other providers because it used coaxial cable rather than copper to provide the link between those cabinets and a home.
On such cable networks speeds can exceed 200 Mbps, said Mr Ferguson. However, the architecture of these networks meant speeds fell significantly at peak times.
"Full fibre to the home can and should beat the cable services, and we see those who order 1 gigabit per second from firms like Hyperoptic (urban) and Gigaclear (rural) testing at well over 200 Mbps," he added.
FTTH connections did not feature in Ofcom figures, he said, because the numbers of homes using them was so low.
Rural speeds
The report noted a growing shift towards superfast connections, which run at 30 Mbps and above, with 28% of UK households now signed up to use them. Across all superfast connections, the average speed was 47 Mbps.
The demand for higher speeds had a positive knock-on effect on slower copper-based ADSL connections, it said.
Improvements telecom operators had made to their networks to accommodate the higher cable and fibre speeds had increased ADSL speeds by 10%, the report said.
Mr Ferguson said projects to boost broadband in rural areas could have a dramatic impact on average browsing speeds.
North Yorkshire has seen speeds rise to in excess of 12.5 Mbps, from about 7 Mbps, in less than a year.
By contrast speeds in Conwy in northern Wales, which has yet to benefit from the Superfast Cymru project, are currently about 6 Mbps.