Yahoo prodigy Nick D'Aloisio opts to go to university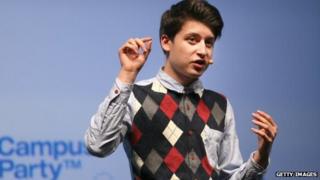 The British teenager who sold his app for millions of pounds to Yahoo has decided to go to university in the UK rather than work full-time for the tech firm in California.
Nick D'Aloisio said he would, however, still continue to work on its news app.
The 18-year-old had previously managed to combine development of the service with his A-level studies.
Yahoo News Digest has been downloaded more than two million times, according to analytics firm Xyo.
"I am thrilled to be attending Oxford University in England where I will study computer science and philosophy," Mr D'Aloisio said.
"I'm excited to simultaneously complete my college degree while continuing part-time to manage Yahoo News Digest - especially at such an exciting time for summarisation, artificial intelligence and wearables."
Mr D'Aloisio told the BBC earlier this month that the team he managed at Yahoo was developing a version of the news summary app for both Apple Watch and smartwatches running Google's Android Wear.
The Londoner was only 16 years old when he secured a $250,000 (£154,000) investment in his text summary software from Hong Kong billionaire Li Ka-Shing.
A few months later Yahoo acquired the technology and his services, in a deal reported to be worth £20m.
Since taking up the role of project manager for the news app, the teenager has spoken at several high-profile public events including Yahoo's keynote address at the Consumer Electronics Show in January and O2's Campus Party in September.
A spokeswoman for Yahoo said he should now be able to get involved in the BBC's computer coding initiative - a series of television shows and other events designed to encourage people to learn to program - next year, "time permitting".