UK broadband voucher scheme overhauled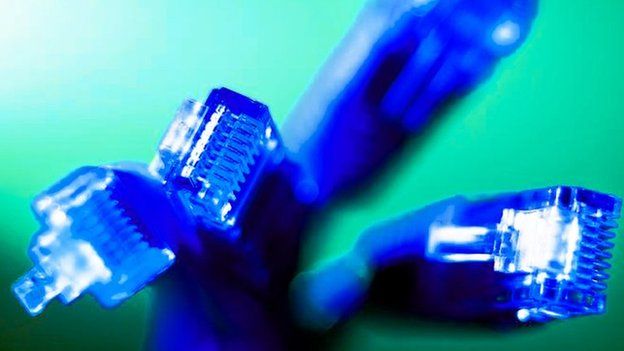 The government is overhauling its plans for getting ultra-fast broadband to UK businesses after disappointing take-up of its current scheme.
Only £7.5m out of a pot of £100m has so far been spent, with just 3,000 businesses taking up vouchers.
Initially the government had expressed hope of reaching 200,000 small businesses.
With a March 2015 deadline for the money to be spent, the government is keen to galvanise interest.
Changes aimed at making it easier to get the money include a redesigned website and a more streamlined process of applying for a grant.
Qualifying businesses no longer need to fill in an application form but can access the government grant with a call to a pre-approved broadband supplier
Businesses that already have a different supplier in mind need only to fill in a form to get their quote approved
Suppliers can also apply to BDUK (the group overseeing the process) with a set of eligible connection costs, cutting the need for businesses to apply at all
Once a broadband package has been approved, suppliers can market them to eligible businesses with no more need for forms or rubber-stamping
"This is a golden opportunity for businesses to take advantage of better broadband. The grant takes away the costs of installation, which are normally charged up front or added to monthly charges," said Sajid Javid, Secretary of State for Culture, Media and Sport.
The plan to help get ultra-fast broadband to small and medium-sized businesses is part of a wider government strategy to create a network of super-connected cities around the UK.
More than 20 cities, including London, Edinburgh, Cardiff, Belfast, Birmingham, Manchester and Cambridge, were earmarked in 2012 for ultra-fast broadband, defined as minimum speeds of 80Mbps.
Birmingham City Council's plan to spend the money on a 100Mbps (megabits per second) network for the city was challenged in the courts by BT and Virgin Media, with the firms arguing that the state-aided network being proposed would pose unfair competition to their own rollouts in the city.
The European Commission subsequently revised its state aid guidelines and DCMS decided that, to avoid delays to other cities' plans being approved, it would offer the subsidy in the form of vouchers for businesses.
Only companies with fewer than 250 workers can apply for the vouchers.
The government was keen to play up the success of the scheme with a spokesman for the Department for Culture, Media and Sport (DCMS) saying take-up was "increasing on a weekly basis".
But others were not convinced.
"The scheme has not proved as successful as government had hoped," said Malcolm Corbett, head of the Independent Networks Co-operative Association (Inca).
"The problem is that the government can't be seen to aggregate demand as that will fall foul of European state aid rules."
Inca is helping small businesses take advantage of the voucher scheme by encouraging them to group together to get the maximum benefits from the subsidies.
In Shoreditch, for example, 90 small businesses based in the same building have joined forces and used the vouchers - which are worth about £2,500 each - to provide 100Mbps fibre connections to their premises.
The government's broadband rollout has been described as unambitious by the Federation of Small Businesses (FSB). In a report published this summer it called for a major rethink of the current strategy.
It recommended that the government commit to delivering a minimum of 10Mbps for all homes and businesses by 2018-19, with that rising to 100Mbps by 2030.
As part of its annual conference, Labour will launch its own digital strategy this week.
It will include a plan to bring speeds of 1Gbps (gigabit) to homes and businesses as well as recommending a digital Magna Carta aimed at defining citizens' rights.