eBay under pressure as hacks continue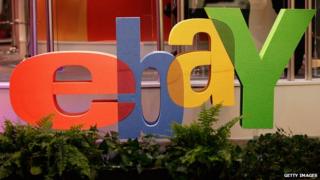 Leading security researchers have called on eBay to take immediate action over dangerous listings, as the problem continues to put users at risk.
The BBC has now identified more than 100 listings that had been exploited to trick customers into handing over personal data.
Over the weekend, readers got in touch with the BBC, saying they had attempted to warn eBay about the problem.
The company said it would "continue to review all site features and content".
The BBC has found that:
Innocent user accounts were hijacked in order to place the fake listings. Many of the accounts had 100% positive feedback, and had sold hundreds of items.
One victim who had his account hijacked told the BBC he was locked out of his account - and later billed "around £35" by eBay to cover seller's fees for items he had not auctioned.
When customers clicked on a listing that had been compromised, they were brought to a sophisticated, official-looking site that asked victims to log in and share bank account details.
The types of items used to target victims ranged from smartphones and televisions to hot tubs and clothing.
The vulnerability centres around users' ability to place custom Javascript and Flash content into their listings pages.
Often sellers will use this method to make their pages look more exciting, with animations or other eye-catching techniques.
But use of Javascript and Flash, eBay acknowledged, significantly raised the likelihood that malicious code could be included within the site's pages - due to a hacking technique known as cross-site scripting (XSS).
It meant users clicking on eBay listings that appeared legitimate were being automatically re-directed to harmful websites designed to steal user information, including credit card details.
"The summary is that it is exceptionally dodgy and redirecting the user to a nasty web page with some really suspect scripts," said James Lyne from the security firm Sophos.
"At present we can't get our hands on the end payload, so can't be sure of the attackers complete motive, but it is clear there are still nasty malicious redirects on the eBay site."
The problem has affected the site since at least February, the BBC has confirmed - although some experts say it has been an issue for more than a year.
In a statement, eBay said: "Many of our sellers use active content like Javascript and Flash to make their eBay listings perform better.
"We have no current plans to remove active content from eBay. However, we will continue to review all site features and content in the context of the benefit they bring our customers as well as overall site security."
'Not OK'
The stance has had security professionals queuing up to criticise the site's security practice.
"It's not OK for eBay to have cross-site scripting vulnerabilities on its website," said Mikko Hypponen, from security firm F-Secure.
"If they can't make it work without the risk of exposing users to cross-site scripting, they shouldn't allow it."
Security researcher Brian Honan called for eBay to disable the active content until it could reassure customers.
"Obviously having Javascript and Flash and all that wonderful stuff is great for the seller," he told the BBC.
"But it exposes eBay and its customers to security risks. Until eBay has the ability to automatically identify malicious links, it should disable Javascript until they have some way of better controlling the risk.
"The needs of the many outweigh the needs of the few."
Dr Steven Murdoch, from University College London's Information Security Research Group, added: "Sellers do use active content, but I expect a very large proportion of needs could be fulfilled with some eBay-provided Javascript which has been carefully checked for safety by eBay."
'Congratulations!'
The BBC got in touch with one user whose account had been used to post malicious listings using the XSS vulnerability.
Russell Dearlove, from York, told the BBC his account had been "acting strangely". He was temporarily locked out of his account, and listings had been posted by an unknown person.
"I kept getting messages flashing up on my email saying, 'Congratulations you've sold your iPad'. I didn't have an iPad to sell!
"I emailed eBay to say there's something not quite right here. I got no response but they have sent me a statement saying I owed about £35.
"They basically sent me a statement saying, 'This is what you owe for your selling fees.'"
The range of products listed by the scammers has ranged from gadgets and televisions to garden furniture and Adidas clothing.
In response to Mr Dearlove's issue, eBay said: "Account takeovers generally occur as a result of a user disclosing their IDs or password.
"Unfortunately, it is a common practice of criminals to exploit well-known, trusted brand names like eBay to attract consumers and then lure them to a fake website or into other fraudulent situations."
Customer complaints
Since the BBC posted its first story on the issue last week, more than a dozen users have come forward expressing concern about the site's security and process for dealing with customer complaints.
Many provided chat transcripts with eBay support staff. In one, a user was told to "clear the cache and the cookies" when reporting a malicious link. It later said the issue was being escalated to support staff.
Joss Wright, a security expert from the Oxford Internet Institute, said in light of the examples, eBay needed to have a serious review of its practices in order to maintain trust.
But he said the site faces difficulty in making sure it remains easy for its customers to use while maintaining a high level of security.
"It's going to be very hard for eBay to secure that without severely hampering their user experience," he said.
"But I think they need to move their balance a lot further towards security than they currently are."
Follow Dave Lee on Twitter @DaveLeeBBC