Apple Watch: Does anyone need a smartwatch?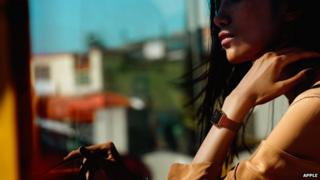 In his trademark black turtleneck, blue jeans, and trainers, Apple co-founder and chief executive Steve Jobs convinced consumers, time and time again, that they desperately desired a product for which they had never previously felt a need.
On Tuesday, his successor Tim Cook took to the stage at an event in California hoping to follow suit, by unveiling a smartwatch that Apple hopes will finally put a wearable device on to the average Joe's wrist.
But does the Apple Watch do enough to kick-start a hitherto lacklustre market?
James McQuivey, an analyst at the research firm Forrester who has seen the iPhone and iPad launches come and go, certainly thinks so.
"I think it is very clearly one of those moments," he told the BBC.
"People know they need watches, they know that they need smartphones, and Apple has made a combination of those things that is better than each of them."
However, he admits that there is no "killer app" on the device. Rather, the Apple Watch is a "collection of benefits", which will appeal to those who already spend an awful amount of time checking their phones each day.
"This is not asking people who are analogue to become digital," he explains.
"This is asking people who are already digital to take it to the next level."
Indeed, Apple is not marketing its watch at technophobes or novices.
For a start, the Watch works only with an iPhone, and offers little in terms of functionality that cannot already be done by its bigger sister.
Additionally, few of the Watch's integrated technologies are particularly revolutionary. A heart monitor might enable more accurate health readings, but several apps on the iPhone already offer similar capabilities.
Its contactless payments facility replicates what many in Europe can already do with credit and debit cards.
It may be the case that the device's user interface is its biggest innovation - thanks to the "digital crown" control that lets users navigate around apps and the introduction of a "force touch" pressure-sensitive display.
Even so, some may find the device rather more cumbersome for sending messages or reading texts than a quick glance at their smartphone.
That's partly why Angela McIntyre, an analyst at research firm Gartner, believes the jury is still out on whether the Apple Watch is another landmark moment for the firm.
"It's still wait and see," she says, adding that the smartwatch is likely to mainly appeal to early adopters, or those who already own many Apple devices.
Additionally, she argues, the $349 (£216) price tag could provide a stumbling block, and it may take a significant drop in cost to bring the watch to the mass market.
Indeed, research by Forrester shows that just one in four adults in the US is considering spending money on a wearable device in the next year.
But Mr McQuivey believes Apple has carefully considered the price point of the Watch.
"That's why they invested in making it beautiful," he argues.
"That's why you've got someone from Burberry now working at Apple - they wanted people to say 'I'd spend that money even if it wasn't digital'."
The Watch, he says, is primarily a "digital lifestyle enabler", not a piece of revolutionary tech.
"I still don't think people who buy it and love it will see themselves as watch wearers."
"In fact, it might have made sense not to call it a watch."
Time - if you'll excuse the pun - may yet prove the Watch a more universally coveted tool, but the device's pioneers could find themselves left behind.
"Early adopters tend to get penalised," says Tim Stevens, editor-at-large at the news site Cnet.
"They pay the most and get technology that is most rudimentary, while a newer product comes along that is thinner, has a better battery life and is usually cheaper."
Those who rushed out to buy the first-generation iPad, for example, were left to ponder quite how wise that decision was when the device became slow and prone to crashes, because of its relatively meagre RAM memory.
Subsequent models of the Watch may address some of the drawbacks of the current device, such as the reliance on the iPhone to provide GPS tracking, the lack of sleep tech or the limited health functions.
Some commentators, including Ms McIntyre, have noted that despite the "limited" functionality of the Watch at present, Apple is inviting third-party developers to create apps for the device, which could result in a flood of new features by the time it goes on sale next year.
She highlights starting one's car using a smartwatch or controlling a house's thermostats as examples.
But Apple will also have to watch out for the competition.
When the iPhone and iPad launched, there were few who could claim to have any device that came close to them.
Today, not only are there several competitors in the smartwatch arena - including Google, Samsung and Sony - but there are also many other devices fighting to become the wearable of choice, such as smart glasses and smart clothing.
And watches may not appeal to the younger generation of Apple enthusiasts, many of whom have given up wearing a timepiece altogether.
The clock, as they say, is ticking.
---
Apple has previously waited for others to pioneer new tech before leapfrogging the competition as the graphic below illustrates:
---