Blue dinosaur to help Facebook privacy push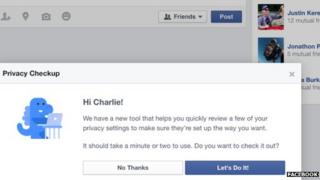 Facebook is using a blue dinosaur to advise its users about how to adjust the site's privacy settings.
The dinosaur is helping guide people as the social network puts its billion or so members through a privacy check-up.
The three-step check-up aims to show people how to control who sees information on their profile and how it is shared.
At the same time Facebook has made changes to settings, to limit what is shared by default.
Facebook began experimenting with the dinosaur-aided help system in April, and the success of those small-scale tests has led the social network to use it across its entire membership.
More than three-quarters of those who had seen the dinosaur had completed the privacy check-up, Paddy Underwood, a manager on Facebook's privacy team, told the Wall Street Journal.
Dubbed a "Zuckersaurus" by tech writers, the cartoon dinosaur appears on the windows that will pop up when people go through the privacy check-up process. The check-up was introduced following regular criticism that Facebook's privacy policy was confusing and left people unsure about how much information they were sharing and with whom.
The check reviews a person's settings that govern the posts they make, the apps they use and profile information they share. The pop-up windows prompting people to go through the privacy check-up are set to appear from early September onwards as people post messages or images.
It will only pop up when people are using a laptop or desktop. Facebook is working on ways to add it to its smartphone app.