Apple and Dell supplier in China 'neglects staff safety'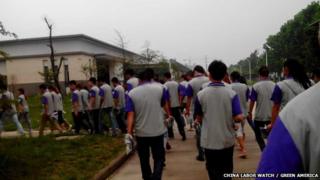 A Chinese factory that provides parts to Apple, Dell and other tech firms has been accused of violating safety conventions and workers' rights.
A report by non-profit China Labor Watch and Green America alleged that labourers were exposed to toxic chemicals, given inadequate training, and made to pay for drinking water in their living quarters.
The plant employs about 20,000 people.
Apple said it had dispatched a team to China to investigate the report.
A spokeswoman for Dell said the company was working with the factory to address issues.
The facility in the eastern city of Suqian is run by Catcher Technology, a Taiwanese firm that mass-produces light metal casings for smartphones, tablets, laptops and MP3 players.
The company manufactured some iPad and Macbook components and its website indicates that it has done work with Motorola, LG, Samsung, Sony and Dell, among others.
After having raised concerns about the Suqian factory with Apple in 2013, the charities sent an undercover investigator to see if things had improved.
However, the investigator, who worked on iPad parts, reported violations that exceed those uncovered last year - many of which are in breach of Apple's own code of conduct, introduced by the firm in 2005.
The following violations were detailed in both the 2013 and 2014 reports:
Despite using toxic chemicals, workers frequently do not receive protective equipment. Some have suffered skin and eye irritation and are at risk of developing serious health problems.
Initial training lasts only 20 minutes and does not include safety information. Workers are not taught about the toxicity limits or concentration of chemicals.
Flammable aluminium-magnesium alloy dust and scraps is "dense" in some workshops, and some workers smoke in these environments.
Staff are made to work for up to 100 hours of overtime per month, and most of the work is done while standing up.
In factory dormitories, there are eight people to a room, and workers must pay for the use of showering and drinking water.
In the latest investigation, the following additional violations were discovered :
Workers are made to fill in documents confirming they participated in safety training, despite not actually receiving any.
Hazardous waste not separated, and industrial waste poured directly into a nearby river.
Overtime is mandatory, and some of it is unpaid.
Fire exits and windows are locked shut, and some safety routes are blocked or too narrow.
Punitive wage deductions.
There is no functional union, and the company complaint line is not confidential, so workers may suffer retaliation for using it.
Refusal to hire people with tattoos - even if under their clothing.
'Tough standards'
Responding to the report, an Apple spokesman said the firm was "committed to ensuring safe and fair working conditions for everyone in our supply chain".
"We are the only technology company to be admitted to the Fair Labor Association, and our suppliers must live up to the toughest standards in the industry if they want to keep doing business with Apple," he added.
"As a result of our quarterly fire safety inspections, the most recent of which happened last week, Catcher has made same-day repairs of broken and expired fire extinguishers, unblocked corridors and fire exits, and added missing emergency exit signs."
The company also said it had dispatched a team of investigators to the plant.
A spokeswoman for Dell said that "reports of poor working conditions in Dell's supply chain are investigated and appropriate action is taken".
She added that Dell was "working with Catcher to address issues" and that the technology firm recognised its "responsibility to work with suppliers promoting sustainable environmental practices, the health and safety of people, and fundamental human rights and dignity".
A spokesman from Catcher told the BBC:
"We are deeply concerned about the claims made by China Labor Watch, and we take the report very seriously.
"We are committed to following Apple's supplier code of conduct and will investigate thoroughly."
In August, Apple announced it was banning two hazardous chemicals from its assembly lines in China and elsewhere.
But the Catcher factories were not among those listed.
Many previous reports by China Labor Watch and Green America have later been confirmed.
However the veracity of one recent allegation was questioned after Samsung denied that child labour had been used at its Chinese supplier.