Date for next Warcraft expansion revealed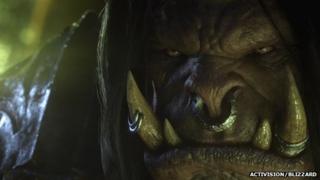 Warlords of Draenor, the next expansion for video game World of Warcraft (WoW), will be released on 13 November.
It introduces a new continent to adventure on, allows game characters to become more powerful and lets players build their own fortresses.
In addition it will overhaul the graphics and animations used for player characters.
The expansion could help creator Activision Blizzard stem a long-term slide in players for its flagship game.
Steady fall
The new territory in Warlords is the continent of Draenor, which players will reach by travelling through a portal that sends them back in time to stop an invasion led by legendary orc warchief Garrosh Hellscream.
The expansion lets players take their characters up to level 100 to boost their offensive abilities and skills further. Players will also be able to instantly boost a character to level 90 so they can quickly make use of the game's new content.
Financial results released by Activision Blizzard this month revealed that WoW now has about 6.8 million subscribers - far fewer than the 12 million at its peak in late 2010.
It also revealed that the game had lost about a million subscribers this year between February and August. It said the decline was similar to that seen in 2012 before the launch of the last expansion, Mists of Pandaria.
The gamemaker added that more than 1.5 million people had already pre-purchased the Warlords expansion, which should help shore up player numbers.
Warlords also signals the start of more frequent expansions of the game, which are now expected to arrive yearly.
Preparations are also being made to celebrate the 10th anniversary of Warcraft in the game and the real world in November.