Michael Jackson music video premiered on Twitter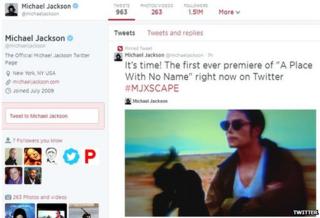 Epic Records has premiered a video for a new Michael Jackson single on Twitter - a coup for the social network, which is more commonly used to provide links to others' material.
To promote the event, Twitter created a map showing the late singer's top-tweeted songs in different countries.
The release comes in the same week that the firm declared its goal was to bring "more video into our users' timelines".
It added that it sought to make money by charging for "promoted" slots.
"We now offer advertisers the ability to run ads with a new cost per view (CPV) ad buying model," David Regan, senior product manager, TV and Video wrote on its advertising news page.
"This means advertisers only get charged when a user starts playing the video.
"Additionally, advertisers using Promoted Video have access to robust video analytics, including completion percentage and a breakout of organic versus paid video views."
Twitter began experimenting with video in 2012 when it allowed users to embed YouTube links into tweets.
At the start of 2013, it launched the Vine app, which allowed the creation of six second videos designed to play on a loop in newsfeeds.
A few months later it rolled out its Amplify program, which allows advertisers to pay for short pre-roll sponsorship clips that run before videos posted by a select number of organisations, including Warner Music, the Vevo music service, Conde Nast, the BBC and the US National Basketball Association.
Video ads have already proved to be a big revenue generator for Twitter's rival Facebook.
But unlike Mark Zuckerberg's company, Twitter's ads will not auto-play when they appear, at least at this stage.
"Both Twitter and Facebook are both integrating video much more deeply into the overall user experience, and people's tolerance and expectation of seeing video is also going up," commented Mark Mulligan, editor of the Music Industry Blog.
"While undoubtedly, given the choice, people would not have their Facebook experience full of ads, it's done nothing to dent the social network's continued growth and usage.
"With Twitter there's a lower amount of consumer attention time to play around with - it will not be able to put 30-second pre-roll ads, like you see on YouTube. It will have to come out with a set of formats that are unique to its audience."
The song, A Place with no Name, comes from a recently released posthumous album that features previously unreleased tracks recorded by Michael Jackson between 1983 and 1999.
The album topped the UK chart in May.