Russian PM's Twitter hacked, posting 'I resign'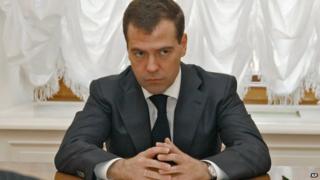 The Twitter account of Russia's prime minister was hacked on Thursday. The infiltrators posted a message saying Dmitry Medvedev had resigned.
The Russian-language feed, which has more than 2.5 million followers, was also filled with tweets denouncing the country's president, Vladimir Putin.
The impersonator wrote that Mr Medvedev would be pursuing a new career as a freelance photographer.
A Russian hacking collective has claimed responsibility for the attack.
The government quickly confirmed the account had been hacked.
"I resign. I am ashamed of the government's actions. I'm sorry," the infiltrators initially wrote, following it up with tweets saying that electricity would be banned, and that Vladimir Putin was "wrong".
'iPhones hacked'
Shaltay-Boltay, a Russian hacking collective, has said it carried out the attack.
The group, whose name is Russian for Humpty Dumpty, also claimed it had infiltrated the Gmail account and iPhones of the prime minister.
Following the incident, it tweeted: "Several mail accounts - including the Gmail - and the content of three iPhones of a certain prime minister have randomly fallen into our hands on the internet. Details later."
Mr Medvedev's English-language Twitter account did not appear to be affected by the attack.
---
Analysis: Adam Robinson, BBC Monitoring
Since surfacing last December, Shaltay-Boltay has become Russia's best known hacking collective - as well as something of a thorn in the authorities' side.
Its fame rests on a track record of publishing internal Kremlin documents, including leaking President Putin's New Year's speech ahead of time last year.
Last month, Shaltay-Boltay published private emails allegedly belonging to a the head of a Kremlin-inspired "trolling" campaign, tasked with filling the comments sections of Western news websites with pro-Putin messages.
Other coups include leaking what it said were private emails of the Russian rebel commander in eastern Ukraine, Igor Girkin (aka Strelkov), apparently discussing separatist plans as far back as 2010, as well as purported Kremlin instruction notes telling Russia's main TV stations how to cover big stories.
Its Twitter account describes the group as an affiliate of global hacker collective Anonymous International.
Shaltay-Boltay's status as a serious irritation for the powers-that-be appeared to be confirmed out when Russia's internet censor Roskomnadzor blocked the group's blog on 23 July.
---