Amazon credit-card reader poses challenge to Square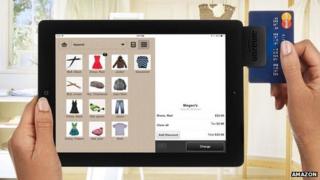 Amazon has released a smartphone and tablet add-on that can be used to swipe debit and credit cards to allow payments.
The Local Register device is targeted at small businesses as an alternative to a cash-register system.
The US firm plans to take a 2.5% cut of swiped transactions from next year, but is offering a discounted rate of 1.75% in the meantime.
Both charges undercut Square and PayPal, which offer similar gadgets.
Square Register charges 2.75% per swipe, while the PayPal Here service charges 2.7%.
All of the firms must deduct interchange and assessment fees imposed by the credit-card companies and banks involved, which account for the bulk of the cost passed on to the device owners.
According to analysis by Fast Company magazine, on a $100 (£59.86) transaction, Square passes on $1.82 in fees to other financial firms and keeps 94 cents itself.
One analyst suggested that Amazon's entry into the market would prove a serious challenge to the firm that had pioneered the idea.
"There is still a sizeable window for big brands to exploit in this space, and Amazon will be seeking to leverage the consumer trust it has to offer what is effectively a cash register to the small business market," said Windsor Holden, research director at the Juniper Research consultancy.
"Given the size and scale of the company relative to Square, Amazon is in an exceptionally strong financial position. Square may now find itself struggling to compete on an equal basis."
According to a report by the Wall Street Journal in April, five-year-old Square has yet to turn a profit and has used up more than half of the $340m (£203m) it had raised from investors.
A spokesman for Square commented: "We've long been focused on building a complete register service for local businesses. This reinforces our mission and shows the demand for all of our services."
At present the Amazon Local Register card reader is only being made available to customers whose billing addresses are in the US.
Sales reports
The device plugs into a tablet or phone's headphone socket and costs $10, but buyers are reimbursed the sum in processing fees when they first use it.
It works with recent iPhones, iPads, Samsung Galaxy S handsets and Kindle Fire tablets. However, Amazon's recently launched Fire phone is not listed among the compatible devices.
Rather than credit the user's bank directly, the company instead adds the sum to their Amazon Payments account - a system originally created for third-party merchants to receive payments for goods sold via the firm's various websites.
Local Register also offers the ability to create reports about sales trends, allowing users to see how specific product categories performed over a designated period.
The card reader is the latest in a series of recent hardware launches from the firm, including the Fire TV set top box and Dash grocery-ordering gadget that scans barcodes and accepts voice commands.
Some analysts have expressed concern at the pace of that new services are being rolled out, bearing in mind the company posted a $126m loss in its last quarter.
The firm's stock is trading about 18% lower than where it started the year.