Xbox gets Tomb Raider sequel as exclusive title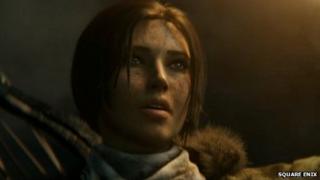 Microsoft has announced that the next flagship game in its Tomb Raider series is to be an Xbox "exclusive".
The previous title had also been released for Sony's PlayStation platform in addition to a version for PCs and Macs.
The title's developer, Crystal Dynamics, said it believed the tie-up would help it advance the action-adventure game's brand.
But the studio acknowledged some people would have "concerns".
The original Tomb Raider game was closely associated with the original PlayStation, which it helped make a success.
One industry watcher described the news as a "decent coup" for Microsoft.
"If you look at the third-party titles that come to market, Tomb Raider is up there as one of the most anticipated third-person action titles," said Piers Harding-Rolls, head of games at the consultancy IHS.
The announcement was made during the Xbox press conference at the Gamescom trade fair in Cologne, Germany.
"We're incredibly excited to have Rise of the Tomb Raider come to our platform in 2015," said Microsoft corporate vice-president Phil Harrison at the event.
"It's a franchise I've admired for over 18 years, and I can't wait for Xbox One gamers to play the game next year."
A spokesman for Square Enix, Crystal Dynamic's owner, was unable to tell the BBC whether the exclusivity deal had an expiration date.
However, Phil Spencer - head of the Xbox division - later told the Eurogamer news site that the deal "has a duration", but declined to elaborate.
Weaker sales
Although Microsoft had shown a teaser trailer of the title during its E3 expo press conference in June, there had been no indication that it had secured the title as an exclusive until now.
The last game - known simply as Tomb Raider - had rebooted the series by taking its lead character Lara Croft back to her first treasure hunting adventure, and had been well reviewed.
The new game may help Microsoft tempt gamers to buy its system rather than Sony's.
Financial reports from the two firms in July indicated that the PS4 and PS3 were outselling the Xbox One and Xbox 360 by a factor of three to one.
Sony says 10 million copies of the PS4 have been bought by consumers worldwide, but Microsoft has not released a comparable figure for the Xbox One.
The research firm IDC indicates the PS4 has remained the stronger seller in North America over recent months despite Microsoft unbundling its Kinect sensor from the Xbox One to match Sony's price tag.
Mr Harding-Rolls said the Tomb Raider deal should act as a counterbalance to Sony's forthcoming in-house exclusive, Uncharted 4: A Thief's End.
"They have similar dynamics, and are both third-person adventure-style action titles," he commented.
"Uncharted is probably the most anticipated game out of Sony's exclusive, so I think Tomb Raider is a good defensive play."
Gamer backlash
Darrell Gallagher, head of studios at Crystal Dynamics, said he thought the move was the "very best thing" possible for his title.
"Today's announcement with Microsoft is one step to help us put Tomb Raider on top of action adventure gaming," he wrote.
"Our friends at Microsoft have always seen huge potential in Tomb Raider and have believed in our vision since our first unveil with them on their stage at E3 2011.
"We know they will get behind this game more than any support we have had from them in the past - we believe this will be a step to really forging the Tomb Raider brand as one of the biggest in gaming, with the help, belief and backing of a major partner like Microsoft."
He added that the deal would not prevent a franchise spin-off coming to other platforms.
Lara Croft and The Temple of Osiris - a dungeon-crawling title with top-down views of its gameplay - will still be published for PlayStation and PCs in addition to Xbox consoles when it is released in December.
Even so, there is evidence of a backlash against the decision.
"I played every Tomb Raider since Tomb Raider 2 on PC. This announcement doesn't mean I'll be playing it on Xbox One. It means I just won't be playing it all," posted a user named John in one of the comments below the firm's blog.
And on Twitter Colin Jones tweeted: "I have just lost every bit of respect & love I had for Square Enix, a game like Rise of the Tomb Raider should not be an exclusive!!!", while Jason Schreier added: "Microsoft literally paid Square Enix to deny their game to people."