Women's site Jezebel in 'rape' images complaint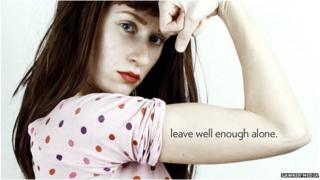 The women's interest blog site Jezebel has said its parent company is not doing enough to prevent rogue users from posting violent pornography.
The publication, owned by New York-based Gawker Media, claims a "barrage" of offensive images are appearing in the comments below its stories, where they have to be manually removed.
Staff said they had repeatedly asked Gawker for the capability to block those posting the content.
Gawker acknowledged the problem.
Its editorial director, Joel Johnson, appeared to welcome the criticism, tweeting:
"Re: Jezebel. 1. They rule. 2. I've dropped the ball and they're right to call me out. 3. I don't have a solution yet but that's my problem."
Launched in 2003, Gawker Media runs a portfolio of successful web blogs, including the gadget site Gizmodo and sports publication Deadspin.
The firm started Jezebel - which has the tag line "Celebrity, Sex, Fashion for Women. Without Airbrushing" - in 2007, and the site now has roughly 8.5 million monthly readers in the US.
'Untraceable' images
In a blog post entitled "We Have a Rape Gif Problem and Gawker Media Won't Do Anything About It", Jezebel staff complained that they were being made to deal with "excessively violent" pornography on a daily basis.
"For months, an individual or individuals has been using anonymous, untraceable burner accounts to post gifs [animated images] of violent pornography in the discussion section of stories on Jezebel," the editorial team said.
They problem, they claim, is down to the capacity of Kinja, the Gawker-owned software that powers the blog site.
Employee safety
Kinja allows administrators to block rogue accounts, but does not allow for the banning of individual IP, or internet protocol, addresses, which would mean a person using a particular computer could be stopped from commenting.
"Because IP addresses aren't recorded on burner accounts," Jezebel wrote, "literally nothing is stopping this individual or individuals from immediately signing up for another."
Gawker, meanwhile, wants to protect anonymous users so that they can confidently send in tip-offs, or leak documents, and is thus reluctant to monitor IP addresses.
Jezebel staff said they had been notifying Gawker managers of the problem for months to no avail, and said that its policy was an "example of employers failing to take the safety of its female employees seriously".