Netflix pays AT&T to ensure streaming quality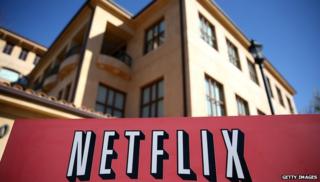 The streaming video service Netflix has agreed to pay US telecoms giant AT&T to ensure its content is delivered to users smoothly.
AT&T, which reached the agreement in May, said: "We're now beginning to turn up the connections, a process that should be complete in the coming days."
Netflix has already reached similar agreements with Verizon and Comcast.
But the streaming service is opposed to paying the fees to broadband providers, amid a debate over "net neutrality".
Net neutrality is the principle that all data on the internet should be treated equally.
Verizon earlier this year challenged the US telecoms regulator, the Federal Communications Commission (FCC), in court and won, paving the way for US internet service providers (ISPs) to start charging fees to carry bandwidth-hungry data such as movies and TV shows on its networks.
In March, Netflix chief executive Reed Hastings hit out against ISPs such as Verizon for demanding a fee to maintain video quality. But Netflix has agreed to pay them to establish a direct connection to its network to ensure content is delivered to users' homes.
Earlier this month, the FCC was deluged with submissions in a public consultation - receiving more than 780,000 comments - about internet providers' right to charge other firms for "fast-lane" data delivery before the regulator passes new rules on the issue in September.
Netflix has been expanding across Europe and recently said it now had 50 million users in more than 40 countries.