BBC trials TV innovations at Commonwealth Games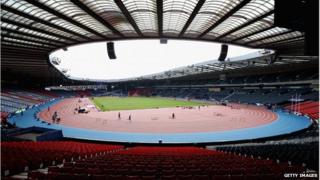 The BBC is using the Commonwealth Games to experiment with new ways of delivering TV coverage of live events.
High-frame-rate (HFR) and ultra-high-definition (UHD) streams of the tournament will be publicly tested in London and Glasgow, alongside regular broadcasts.
Other innovations include a "venue explorer", which allows users to pan around an area on their tablet.
Immersive viewing using virtual-reality technology is also being trialled.
In a blog post, the BBC's research and development (R&D) team explained that while the "technical infrastructure doesn't exist yet" to deliver these new formats to the average viewer, the public would "be able to come and get a taste of it at our public showcases in Glasgow and London".
The department will document the experiments' progress throughout the games, via its blog.
UHD streams, which have a native resolution of 4K or higher, (roughly four times the resolution of standard 1080p high definition) were already tested during the World Cup, earlier this year.
For the Commonwealth Games, BBC R&D is testing a higher frame rate - the speed at which images refresh on the screen - to reduce flickering.
"The high-frame-rate TV demonstration in the Glasgow Science Centre will show that this is even advantageous at 'regular' HDTV display resolutions, let alone for UHDTV," the blog states.
"A frame rate of 100 frames per second enables the human eye to fuse motion in a realistic way and is also high enough to avoid visible flicker."
The BBC is also experimenting with delivering live TV streams over internet connections, rather than via traditional satellites.
Virtual reality
Innovations in the way audiences experience live events will also be unveiled, with an "augmented video player", which can overlay interesting data about the athlete or sport directly on screen.
Another new product is the "venue explorer", which, as the R&D team explains, "allows you watch live video feeds on your tablet and then zoom into the images and pan around".
"A fixed, wide-angle camera supplies UHD video from venues, which means there is no loss of resolution as you manipulate the image.
"The audio is automatically remixed to correspond to the area being looked at, and graphical overlays provide data about what you see."
Virtual-reality technology will also be employed, with the Oculus Rift headset (acquired by Facebook for $2bn, or £1.2bn), used to view 360-degree videos and three-dimensional audio.