Drone operator explains how he found missing man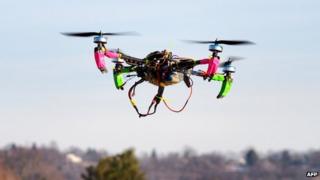 A drone operator has explained how he helped locate an elderly Wisconsin man who had been missing for three days.
The operator said he had used his aircraft to survey the area, but ended up spotting the missing 82-year-old the old-fashioned way - with his eyes.
Even so, he suggested the kit had helped speed up the search.
Others, using dogs and helicopters, had failed to find Guillermo DeVenecia - who has Alzheimer's - after he went missing near Fitchburg, Wisconsin.
There had been some reports, including on the BBC, that said Mr DeVenecia had been spotted by the drone itself.
But the operator clarified what had happened.
"It was not the drone that actually spotted the missing man," David Lesh told the BBC.
"We were asked to search a large area of farmland with the drone. I covered three-quarters of it using three batteries, and the last quarter was a little too far for me to get good first-person view reception.
"We got into the car and drove to the other side of the property. As we pulled up to fly the drone one last time, we saw the man from our car a few hundred feet away.
"Had we had not seen him then, the drone would have seen him a few minutes later since he was in the search area we were given to look at. If nothing else, the drone helped us cover a huge area in a short amount of time that would have taken many volunteers hours to search."
A medical check revealed Mr DeVenecia was only mildly dehydrated after his three-day sojourn. He had thought he had only been out for a short walk.
Court challenge
The rescue comes at a time when the US air safety regulator is grappling with the issue of what kind of drone flights should be allowed.
A week ago, the Federal Aviation Administration was defeated in a case in which it had tried to ban another search-and-rescue squad from using drones made out of styrofoam.
Texas EquuSearch Mounted Search and Recovery Team - a volunteer force - has used unmanned aircraft on several occasions since 2005.
"To date, photographs taken by Texas EquuSearch volunteers using model aircraft have directly pinpointed the location of remains of 11 deceased missing people," its lawyer stated.
"The models have also helped direct volunteer resources in countless other searches - to help volunteers avoid hazards on the ground, to facilitate resource allocation to areas of greatest interest, and to save time during the crucial early hours of the search."
The FAA had tried to ground the aircraft on the basis of rules, dating from 2007, that bar commercial use of unmanned aircraft.
However, a judge ruled that the FAA's use of an email, rather than a formal cease-and-desist letter, to inform the team its aircraft were grounded had been inappropriate.
The agency subsequently told tech news site Ars Technica, that the court's decision had no impact on its authority to regulate the wider use of drones.
However, in March a US court found that the FAA rules banning commercial use of drones were put into force illegally because it had not done enough to solicit comment from the public. The FAA has appealed against that decision.
In addition, the FAA has said it will take another look at its rules governing drones and aim to put new rules in place by the end of 2015.