Houzz shakes up UK's interior design and garden industries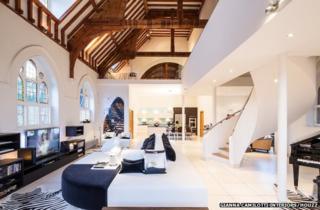 When it comes to creating a hit start-up it helps to spot a gap in a market that people feel passionate about - and for many, home and garden improvements are one of life's great loves.
Silicon Valley-based Houzz - an home renovation app and website whose articles and photos are posted by architects, interior decorators and other industry professionals - certainly looks to have struck gold.
It was recently reported that the five-year-old platform, created by a husband and wife team, is already worth more than $2.3bn (£1.3bn). Perhaps more critical is that it attracts about 20 million unique visitors a month and is still growing.
The service has just started a UK edition - its first international expansion - but is the country ready or willing for the potential disruption it entails?
At first glance it might seem there's no shortage of home design sites.
House & Garden, Grand Designs Magazine and other big brands already publish articles online, while Roomstyler offers a way for home enthusiasts to share and comment on inspiring photos.
Many shops have highly visual sites of their own and, of course, there are countless blogs, Instagram accounts and Pinterest boards to follow.
What Houzz does, however, is bring everything under one free-to-use roof with a clever tagging twist.
Members of the public can browse themed articles, photos and products; build up an "ideabook" of their favourite spots; seek advice from both experts and the public; and then be guided to a designer or other contractor capable of doing the job.
In theory the more they use the service the better it gets thanks to its personalisation engine.
"The algorithm kicks in after [they select] about 10 photos and realises this person is after 'X', and starts recommending and pulling material from the database," chief executive and co-founder Adi Tatarko tells the BBC.
Tracking users' behaviour also help Houzz commission articles to react to the latest fashions.
"We're not going to dictate a trend," Ms Tatarko adds.
"I'm not going to try to tell you: 'Hey look, orange is the colour of the year - I love orange by the way.
"But we will look at the thousands of new projects that we get every week... go and talk to as many professionals as possible and then give this data back to the community."
Tagging is a stand-out feature. Either the professionals or Houzz's own staff can add small green labels to the uploaded pictures that when selected offer added information about the furnishings, and sometimes links to where they can be bought online.
In cases when the pictures are uploaded by a big brand, these tags provide the site with revenue.
Houzz also makes money from ads and charging professionals to upgrade to a "pro+ account", which lets them market their services to users living in a specific area, and access the site's otherwise private statistics.
However, the UK edition will initially lack these revenue-raising features until its membership grows.
Instead, Ms Tatarko says, the aim is to make the British version's welcome page better tailored to local interests, while still allowing access to the full range of material
"When people from the UK come to the global site they tend to type 'small' first - small kitchens, small bathrooms small everything.
"So, there will definitely be lots of content about working in tighter spaces.
"And it seems that in the UK people are building lots of basements. So, we are adding a category of basement renovation professionals."
Houzz already claims one million active users and 8,000 professionals in the UK - figures its marketers are furiously promoting as they attempt to encourage other experts to sign up.
But not everyone is convinced by the idea of sharing their businesses' "secret sauce" on the platform.
"I would not tag where you can buy things on photographs of my interiors," explains Debra McQuin, a London-based designer who is also marketing director of the British Institute of Interior Design.
"Sourcing is part of my proprietary knowledge and it's what I provide to my clients."
After testing the service for about four months Ms McQuin is still not convinced it will generate enough business to be worth committing to long-term on top of her existing Pinterest and Instagram activity.
But she says she intends to stick with it for a while longer.
At worst, she adds, it shouldn't pose a threat to her trade, but remarks it could be a different matter for the UK's multitude of interior decoration magazines.
Douglas McCabe a media consultant at Enders Analysis, agrees on this point.
"It does sound potentially disruptive to all the consumer-friendly, advertising-friendly publications such as Elle Decoration and World of Interiors," he says.
"That's because [Houzz] is playing a discovery role and then taking it a step further by acting as a kind of search engine for suppliers, which the magazines aren't really doing online in the UK."
Ms Tatarko stresses that professionals will not have tags forced upon them but sidesteps commenting about the impact of her site on specific magazines beyond saying she intends to modernise the home renovation sector as a whole.
"It doesn't make sense that people have to educate and figure it out for themselves by buying lots of books, find professionals through allegiance sites or word of mouth," she says.
"We are here to bring transparency and help this industry get to the 21st century. It's way broader than a specific magazine we might impact."
Her firm has already hired local managers in Berlin and Sydney, so if the UK edition is a success, expect further Houzz extensions in the near future.