App parking system shuts down in San Francisco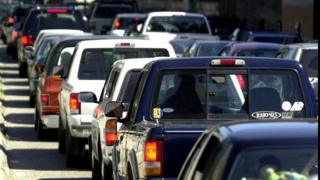 A service that lets people buy and sell public parking spaces in San Francisco is suspending operations in the city.
Rome-based MonkeyParking lets people auction a space they are about to vacate via a smartphone app.
The company faced criticism from San Francisco city authorities who threatened to fine MonkeyParking and its users.
Initially defiant, the company has "disabled" the service while it clarifies how it can operate.
San Francisco banned the use of the MonkeyParking app in late June declaring that it would not allow the creation of a "predatory private market for public parking spaces".
City authorities also sent a "cease and desist" letter to MonkeyParking and threatened fines of $2,500 (£1,500) per violation of the order. It gave the company until 11 July to stop operating in the city.
In a blogpost, the company said the service had been shut down while it "reviewed" the situation.
It said it wanted to comply with the "intent and letter of the law and in full co-operation with the local authorities". It added that it was working to avoid any "possible improper use" of its service and would provide more information soon.
It will continue to operate a parking auction service in Rome.
Two other firms that sell parking spaces in San Francisco - Sweetch and Parkmodo - were also believed to be affected by the city's ruling.
In response, Parkmodo suspended its parking system in San Francisco but is still running trials in New York and Chicago.
Sweetch is continuing to offer its service in San Francisco. It is keeping going, it said, because there was no auction involved. Instead users pay a flat fee for information and can only use any credit they have built up to make payments within Sweetch or they can ask the company to donate it to charity.