UK's Hypercat aims to spur on 'internet of things'
By Leo Kelion
Technology desk editor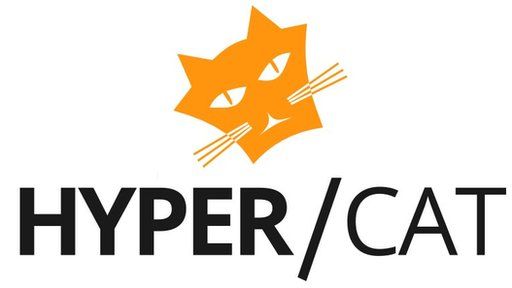 A group of 40 UK-based tech firms has developed a way to help apps and machines communicate in a bid to spur on smart cities and smart homes.
Hypercat is a new specification that effectively acts as an address book for data hubs holding information transmitted by net-connected devices.
It would allow an app to ask a hub what types of data it holds and what permissions it needs to access them.
The idea is to reduce the need for human intervention.
At the moment a person needs to write an application programming interface (API) to specify how the software components of one system should interact with another.
A recent example of this is Google's Nest division releasing APIs to allow the software that controls its smart thermostat to interact with the software used by Jawbone's Up wristbands.
But as the number of net-connected objects climbs higher - including everything from lamp posts to washing machines - the consortium behind Hypercat suggests it would be more efficient to allow the systems to have a standard way of consulting each other, rather than requiring new APIs for each case.
Instead of insisting that each company organises its data in the same way - an approach the consortium accepts would be doomed to failure - it decided instead to build a layer on top of the databases the services already hold.
The result, Hypercat, is described as being an open, lightweight hypermedia catalogue format.
The consortium likens the concept to Sir Tim Berners-Lee's world wide web specifications, which helped unlock the potential of the net after they were widely adopted.
"Today devices are all being connected to the internet in slightly different ways," explained Pilgrim Beart, chief executive of internet-of-things start-up 1248, which is involved in the project.
"They generally have a web interface, which allows applications to come and get data from them and control them.
"But everyone's interface is different and there is no standard way for an application that has not been specially written for that service to come along and find what the devices are and what data they've got. That's the problem that Hypercat solves.
"An example would be if an application understands temperatures, Hypercat would provide a uniform way the application could ask any service if it has temperature data in it and ask to get hold of it."
BT, ARM, Intel, and IBM are among the other firms that have helped develop the specification over the past year.
The effort has also received £6.4m of government funds through the UK's Technology Strategy Board.
However, for Hypercat to succeed other tech companies will have to agree to add it to their systems. Major players, including Google and Apple, have yet to be consulted.
The firms involved also acknowledge that extra software would be required to take account of privacy concerns, to prevent apps exploiting Hypercat to track the behaviour of individuals through all their various interactions with net-connected kit.
Even so, one expert not involved in the project said it typically took many years for such specifications to become adopted as industry standards, and this one might face resistance from firms already selling smart appliances and control systems.
"If a company is leading in a market why on earth would they do anything that would make it easier for their competitors to enter?" asked Dr Ian Brown, from the University of Oxford's Internet Institute.
"Sometimes there will be circumstances that will persuade them that if they open up in this way they can grow the overall market larger. But the hard economics is that they may be reluctant to do that."
Related Internet Links
The BBC is not responsible for the content of external sites.