Will the British take to Google Glass?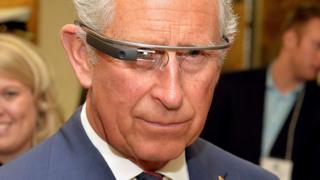 It has been the most talked-about new gadget of the last year (not always in a good way) and now Google Glass is coming to the UK.
Anyone with £1000 to spare can order the wearable computer that delivers smartphone information into a screen above your right eye. Then they can reach their own conclusion about whether it is the future of communication - or computing's equivalent of the Sinclair C5.
The UK version will recognise the Queen's English (I found while testing the US product that you needed a Brooklyn twang to be understood) and will have a number of new apps designed for the British market.
A few weeks ago, after wearing it for a couple of months, I wrote that Google Glass was a fascinating failure in its present form. Google itself seems aware that it is far from ready for the wider consumer market, and recently appointed a new leader for the project.
Ivy Ross is not a computer scientist but has had a career in design and marketing at companies like Calvin Klein, Gap and Swatch. When I interview her in the new Glass showroom in London's Kings Cross, I ask her first to give her name and title to test sound levels: "Ivy Ross, fearless leader of Glass," she responds, with a grin - and she may need to be fearless.
I put it to her that the main issue with Glass is a simple one - it makes those who wear it look a bit weird. She says it has already evolved a lot. Early versions involved strapping something that looked like a circuit board to your head - but yes, more work needs to be done in that area, as well as in software.
The other big question is what is it for. She says Glass delivers "information when you want it, how you want it, without having to disengage from life". But she concedes that the "killer app" has not yet been discovered - "we have to continue to hone in on utility - we don't have all the answers yet". I'm shown one rather magical new app which maps the constellations when you look up at the night sky, but there will need to be far more.
Glass was unveiled two years ago, and the Explorer testing programme has been up and running for more than a year, but there is still no sense that it is ready for release to the wider consumer market. Ivy Ross says there have been 12 software updates, and five hardware updates so far, but there is still a lot more to do: "Until we feel comfortable we have a product that will serve the wider public we are going to continue to innovate and learn."
Beyond the technology enthusiasts and the developers who need to know what this new product might mean, there are others trying it out, from doctors teaching students how to carry out a procedure to museums wondering whether they can improve the visitor experience.
But to reach a wider public, Glass will have to be a lot cheaper - probably under $500 which might mean £400 in the UK - and its team will have to show that it really can make its users feel they couldn't leave home without it.
Ivy Ross doesn't underestimate the challenge: "It's an extraordinarily complicated product, it's a new category that we are inventing, not just a new product." But she insists that eventually this will be a product that lots of people - not just gadget obsessives - want in their lives. Let's see how many British people sign up for an early - and very expensive - glimpse of this promised revolution.