Lego fuses real and virtual worlds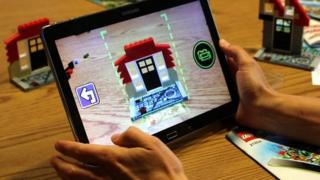 Construction toy firm Lego has blended the real and the virtual with bricks that can be built and then transferred to online games.
It is part of a trend among toy manufacturers to straddle the two realms and appeal to children immersed in the digital world.
Users can choose to build four game sets which come with a special plate to build them on.
The creations can be photographed and imported into free games.
Zombie gaze
"Children have always imagined their Lego creations as immersive worlds which come to life for hours of role-play and adventure," said Ditte Bruun Pedersen, senior design manager at Lego Future Lab.
"Recently, smartphones and tablets have become a popular platform for empowering game mechanisms that kids love. Lego Fusion brings these two favourite play patterns together."
Once a child's creation has been imported into a game there are a series of challenges that require them to build new things to move the game forward.
"In our research, we heard repeatedly from parents that they are constantly battling 'zombie gaze', the experience when their children are immersed in their device screens for large blocks of time," said Ms Pedersen.
"We developed Lego Fusion with this challenge in mind, creating a play experience that keeps children entertained with the kind of app gameplay they love while giving real reasons to return to the brick pile to creatively build."
So, for example in the town-building game Town Master children can add extra facilities to keep inhabitants happy or in the Battle Towers game, if a castle is damaged in the game it can be repaired in the real world.
Increasingly toy manufacturers are aiming to fuse the two realms.
Video games maker Activision found a hit with Skylanders, a game which came with add-on toys which offer new content when placed into a RFID (radio-frequency identification) reader attached to a console.
Lego Fusion will be launched in September and will initially be available in the US online.