UK rural broadband fund winners revealed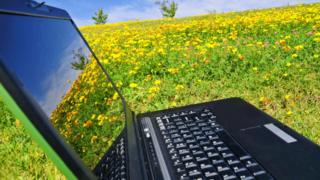 The UK government has revealed the winners of a £10m fund aimed at finding new ways to get superfast broadband to very remote areas of Britain.
Eight schemes have been shortlisted, using a variety of technologies including fixed wireless and satellite.
Proposed locations to test the technologies include Scotland, Wales, Devon, Somerset and Northumberland.
The government said it would use the trials to work out the best way to get superfast broadband to the final 5%.
The schemes include:
In Wales, AB Internet is planning a hybrid fixed line and wireless network that will deliver speeds of up to 50Mbps
In North Yorkshire, Airwave plans to deploy four next-generation wireless systems, including making use of TV white space
Satellite provider Avanti wants to pilot a satellite broadband platform in Northern Ireland and Scotland
MLL plans to aggregate small wireless networks in Kent
In Northumberland, Cybermoor wants to develop a fibre to the home network using a financial model that gets investment from the local community
Rural Affairs Minister Dan Rogerson said: "Fast and reliable broadband revolutionises everything from how we work and how our children learn, to how we spend our leisure time and engage with public services.
"It is critical that we explore how to get superfast broadband out to these hard-to-reach areas to allow business to be more productive, innovative and competitive, which is crucial for building a stronger rural economy and fairer society."
Several of the winning bidders are members of the Independent Networks Co-operative Association (Inca).
Chief executive Malcolm Corbett said he hoped the trials would help inform local councils currently looking to spend their rural broadband funds.
"It will help local authorities make decisions about where to invest and can hopefully make the process a bit more competitive," he said.
There has been criticism that, to date, BT has won all the contracts to roll out rural broadband.
"The simple fact that BT has not directly won any of these projects will please many people, but it needs to be remembered that this £10m of funding is just for the pilot projects and is not a full commitment yet," said Andrew Ferguson, from ThinkBroadband.
But, he added, the major stumbling block for ensuring that the vast majority of the UK was served by superfast broadband would be identifying the areas that needed it most.
"The pilots are focused on the most rural parts of the UK, but we see enough people in towns and cities that have missed out on the commercial rollouts of superfast services, or are considered served by an existing BDUK [Broadband Delivery UK] project, but have slipped through the cracks caused when councils have used postcodes rather than individual addresses to assess coverage."