Amazon Fire Phone: The best web reaction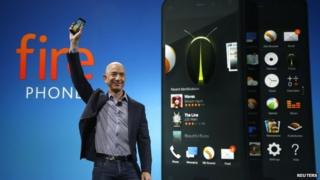 We'd known it was coming for some time - and on Wednesday, Amazon finally did it: it launched a smartphone.
Not just any smartphone, the company would have you believe, but a game-changing one, with 3D visuals and innovative software that will change how you buy things online.
When it becomes available in the US on 25 July, Amazon's handset will find itself under a pile of premium smartphones already loved, and invested in, by their owners.
So, can the Fire Phone enter the market in a blaze of glory, or will it fail to even spark?
Here's a range of views from around the web and social media.
---
Press:
"[Jeff] Bezos has already made one thing clear: This is a shopping device."
"Bulking up the Amazon Appstore is a big reason why this phone exists; even though its out-of-box features look incredible, its success may hinge on the creativity of third-party developers. Amazon is certainly hoping that the unique opportunities presented by its new hardware will inspire developers.
"There's simply nothing like it to develop apps for out there: The eye-tracking, the gesture controls, the way onscreen objects take on a new viewable dimension."
"Amazon has already taken market share from traditional retailers by offering lower prices. The biggest obstacle it has faced is counting on customers to go to the website and look up items, rather than buying in stores. Amazon's Firefly removes the middle man and makes shopping on Amazon effortless.
"That could become a big headache for its competitors."
"This is premium pricing that positions the Fire Phone as a high-end device right up there with the flagship phones from Samsung and Apple.
"Those two have left nothing but scraps for others trying to crack the premium market. Maybe the 3 D makes it worth, but I'd be surprised if people switch allegiances based just on that."
---
Tweets:
"As [Facebook boss Mark Zuckerberg] said, no matter how good your phone, 90% of your customers will have a different one. So why bother?" - Benedict Evans, analyst
"Dynamic perspective offers gimmicky lock screen, maps enhancements and a different way to scroll books/articles & navigate browser - catchy?" - Carolina Milanesi, analyst, Kantar Worldpanel ComTech
"Amazon's new phone makes sure that the direct line from your bank account to Amazon never tangles." - @davepell, start-up investor
"Fire Phone UI [user interface] is a mess." - Joshua Topolsky, editor, The Verge
"Essentially a mobile cash register for Amazon.com." - Olivia Sterns, Bloomberg
"On one hand it's like, 'Yay, new phone!' On the other hand it's like, 'Damn, that's one more phone we have to build for.'" - Aaron Levie, chief executive, Box
"This is definitely my next phone." - Michael Arrington, editor, Uncrunched.com
"Amazon has created the (so far) ultimate spy-on-the-customer device in the Fire Phone. No thanks, in a big way..." - Dan Gilmor, media expert
---
Other reaction:
"I find it strange that a company named after a rainforest would be so fond of naming its products after various words associated with fire." - fallingalt on Reddit
"I was enjoying this until the whole tilting thing. This seems weird and prone to unintentional movements. Particularly when using your phone when lying down on a couch or bed." - haelous on Reddit
"While it seems to have decent hardware, [Fire Phone] is just an Android phone with everything we love about Android removed." - Jack Doyle on Google+
"I was really expecting them to compete on price because I'm not really sure what the hook for this phone is. 3D's a gimmick, I can download Google Goggles and do nearly everything Firefly can, and premium hardware is available other places. If you have all Amazon stuff this is the phone for you I guess but if not, I don't see why it should be." - Brett Besa on Google+
"Amazon's killer blow lies in its deep connection to the Prime subscription service. The Fire Phone is rather a gateway into its millions of books, movies and music on-demand, making the device key to a very appealing package," - Uswitch.com, via email