E3: Five things we learnt at the LA games expo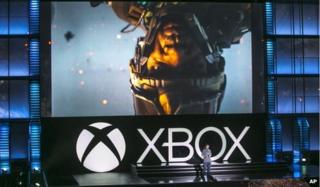 The gamers are leaving, the stands are being taken down, and the hot pants are getting stashed away for another year.
There were huge levels excitement on the floor of the Los Angeles Convention Centre - though perhaps the next major event to take place here will surpass it: tickets to Brideworld Expo are still available, if you're interested.
Last year, we all knew what was going to be the big story at E3. With Sony and Microsoft launching new consoles, it was obvious what the talking point would be.
But in the run up to E3 2014, it was anyone's guess, and as the show draws to a close the arguments over who came out on top have already started.
So, here's five things we learnt this week:
1. It's still neck-and-neck in the console race (unless you're Nintendo)
Sure, the Xbox One has had a troublesome first year compared to the PlayStation 4's stonking sales.
But Microsoft really shouldn't be panicking yet. Its line-up of new titles is relentless - the press conference on Monday was simply game after game after game.
We'll have a clearer picture of who is winning by this time next year - at which point some of the bigger titles will have finally been released.
The words "Coming in 2015" appeared so often during both press events that there was a danger they'd be burnt into the big screens.
Not so long ago, the console market used to be a three-horse race - but with the stallions of Microsoft and Sony galloping up ahead, Nintendo is becoming more of a rocking horse.
Kids love them, they're good fun to play with for a few moments, but they just don't seem to be going anywhere.
Nintendo's new games - Starfox, Super Smash Bros and Zelda, in particular - may keep the Wii U on life support for another year or so yet, but it's fast approaching the point where the firm may need to cut its losses and look to the next console, if indeed it makes one.
2. The games industry still has an issue with women
It'll come as no shock that it was mostly men in attendance at E3. But there were plenty of women gamers here, many of whom were left a little frustrated at what was on offer.
Take Assassin's Creed, for example.
Now well-established as one of the major franchises, the game's next outing will allow up to four people to play together - but only as men.
Plans to include a female character were ditched during development, Ubisoft says.
The explanation?
"A female character means that you have to redo a lot of animation," said James Therien, Ubisoft's director, drawing no sympathy whatsoever.
The company has since said there will be "strong female characters" featured in the game. But not playable.
The highest-profile female lead character at E3 was one we've known about for years - Lara Croft.
That's right, unfathomably-boobed, hot-panted posh totty Lara Croft.
You'd think, given it's approaching 20 years since Tomb Raider first came out, there would be a bit more invention.
Still - there is some hope.
According to one count, Nintendo is leading the way with playable female characters, albeit in games that are a little on the silly side.
And Sega's latest Alien game sees you play as the daughter of Ellen Ripley, Sigourney Weaver's character in the movies.
3. DIY is all the rage at the moment
It is probably (read: definitely) because of the crazily successful Minecraft, but a whole heap of games shown at this year's E3 encourage players to create things themselves.
Most ambitious is Project Spark - which has been released on beta for a few months, but now appears to be coming together.
In this title, you're given a "canvas" on which to essentially make your own game, designing levels and adding gameplay elements as you go.
An old favourite, Little Big Planet, is back - and it moves forward its highly enjoyable level-creation feature, now given added oomph thanks to the addition of new characters that will be joining loveable lead character Sackboy.
Meanwhile, if you're the sort to watch the Saw films and admire the ingenuity of Jigsaw's traps, Fable Legends may float your boat.
Its cunning twist is the ability to play as the "villain", setting up obstacles and grief to put the good guys in harm's way.
4. Nobody knows what the next big thing is
There'd been an air of hope, during Sony's press conference, that Project Morpheus - the firm's virtual reality headset - was about to get a release date.
As it happened, we're still none the wiser as to when this technology will find itself in people's homes.
Microsoft, meanwhile, are so far sticking two fingers up to virtual reality, and instead relying on their Kinect motion-tracking device.
Or are they?
The Kinect has barely had a mention this week, and unlike last year - where Microsoft were encouraging people to experiment and jump about with the new tech - the device was comparably invisible this year.
It's been a busy year for Oculus Rift - since E3 2013 it's all changed, what with being bought out by Facebook.
Oculus is involved in some high-profile, and very impressive, integrations - notably the remake of Elite, and Alien: Isolation.
The latter, with VR, is unnerving to say the least.
5. It's time for the golden oldies to shine once more
Like that troubling moment when you discover you now actually enjoy the songs your dad was playing in the car when you were little, gaming fans realised this week that it was the vintage titles that can get them most excited of all.
The surprise announcement that adventure game Grim Fandango was to get a remake is the best example - the crowd were almost on their feet (although such was the excitement by that point in the conference, I think PlayStation fans would have cheered a cheese sandwich).
It will be remastered for PlayStation 4 - as will some more recent classics, Grand Theft Auto 5 and The Last of Us.
Remastering was a big theme for Microsoft too - the four main games in the Halo series will be rereleased in their entirety for Xbox One, including a retouched version of Halo 2.
A cynic, however, would say that this nostalgia fest was actually a rather crafty way of deflecting attention away from the fact many of the big new games won't be out for a while.
What did you learn from E3 this week? Follow Dave Lee on Twitter @DaveLeeBBC