PR firms pledge 'ethical' use of Wikipedia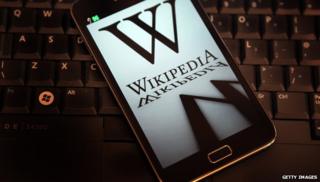 Eleven large PR firms have pledged to clean up the way they interact with Wikipedia, the online encyclopaedia.
Before now many surreptitiously edited pages about their clients via pseudonymous accounts.
Eleven firms have now signed a pledge to follow the online encyclopaedia's rules when they want entries changed.
Dialogue with PR firms started after Wikipedia's overseers threatened one firm with legal action over the way it edited pages.
In late 2013, the Wikimedia Foundation, which runs Wikipedia, said it was investigating more than 300 accounts it believed were fakes set up by people acting for just one PR agency seeking to remove damaging information from entries.
"We... acknowledge that the prior actions of some in our industry have led to a challenging relationship with the community of Wikipedia editors," read the statement from the 11 PR firms.
Pledge signatories: Beutler Ink, Edelman, Fleishman Hillard, Peppercomm, Ogilvy & Mather, Ketchum, Burson-Marsteller, Porter Novelli, Voce Communications, Allison+Partners and Glover Park Group.
The pledge requires the PR agencies to act "ethically" when they want to make changes to entries about companies, individuals and organisations they represent.
This means that agencies seeking change will be required to declare their involvement with the subject of a page before making edits and liaise with page editors about any changes.
The firms also said they would investigate any abuse of Wikipedia by their own staff and take action to correct any breach of the online reference work's rules.
The statement ended by expressing the hope that the pledge would lead to a "significant improvement in relations between our two communities".
"There needs to be more from PR than subterfuge and more from Wikipedia than shame," said Phil Gomes, a spokesman for Edelman Digital in an interview with Ad Age.