Baby tech: Will new gadgets result in paranoid parents?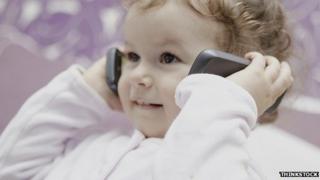 They may be too young to have their own email address - let alone go shopping - but newborns and infants are being viewed by many tech start-ups as the next big thing.
A baby boom in gadget sales, if you will.
But as the amount of tech-for-tots grows, should parents think twice about opening their purses?
Is synching your baby to your smartphone, in fact, a step too far?
The makers of one wearable - currently taking pre-orders from US customers - is offering exactly that scenario.
The Owlet Smart Sock is a small device designed to be worn around the foot of an infant, which sends the data it gathers to an associated mobile app.
The Salt Lake City-based firm behind the project, Owlet Care, says it will monitor the baby's:
heart rate
oxygen levels
position
sleep patterns
skin temperature
"Every parent knows what it's like to lay in bed and stress about whether your child is breathing," says Owlet's founder and father-of-two Jacob Colvin.
"By creating products that help parents and increase the safety of their kids, we are making a difference."
Meanwhile, a Boston-headquartered start-up is already selling an alternative product via Toys R Us's online stores in the States.
The Mimo Baby Monitor is an all-in-one baby-grow suit with a slot on its front to which a data-collecting plastic turtle plugs in.
It takes similar readings to Owlet's product, beaming the results to concerned parents via Bluetooth and wi-fi.
Hi-tech purchases like these come with a substantial price tag - Mimo's starter-kit costs $199 (£119).
And there are some who are concerned such manufacturers are playing on parental paranoia.
"First-time parents, who are at their most obsessive about safety, are the most susceptible to manufacturers' marketing and claims to be 'best for your child'," Katie O'Donovan, from parenting network Mumsnet, tells the BBC.
This can lead to some expensive purchasing mistakes, she adds.
Billions from babies
But it's easy to see why entrepreneurs are attracted to the sector.
Retail sales of "baby durables" - the term analysts give to long-lasting goods - are set to increase from $2.6bn in 2012 to $2.9 billion in 2018 in the US alone, according to research firm Mintel.
Other goods available or about to join the infant tech space include:
Carkoon - a car seat that triggers a cocoon-like shield for the child in the case of a collision
Sleevely SmartSleeve - a smart bottle holder that transmits feeding data to a smartphone
Origami Stroller - a pram complete with a speed-and-temperature LCD screen, which erects and collapses at a button's touch
Ultimate Wipes Warmer - a machine that promises to heat the disposable damp baby cloths without drying them out
Cry Translator - a "medically tested" gadget that claims to diagnose a baby's cry from a few seconds of audio
The Spanish firm behind the Cry Translator also offers cost-conscious parents an app that requires slightly longer recordings to work.
From a paediatric perspective, there appears to be pros and cons to integrating technology with parenting and infants.
"Paediatricians generally value technology as far as children's development goes," Dr Rahul Chodhari, consultant paediatrician for the Royal Free London explains.
"My worry, especially for a first-time parent, is that a parent might ignore the wonderful gift of instinct and rely on a machine that is not medically tested to read a situation".
However, there is one area that both Dr Chodhari and Barnet & Chase Farm Hospitals' consultant paediatrician Dr Su Laurent agree is ripe for improvement - child car seats.
Dr Laurent pronounces the Carkoon and its £499 price tag as sounding "amazing but expensive" when she learns of the still-in-development product.
But she is less impressed by True Fit iAlert, a hi-tech child seat currently sold for $400 that sends a smartphone warning if a child wriggles free of its straps.
Features of the car seat, including a monitor for an exact angle of recline, are described by Dr Laurent as "unnecessary and likely to increase anxiety".
The product may also lack wider appeal since its manufacturer tells the BBC that it will soon be withdrawn from sale and not replaced.
Crowdfunded kiddie tech
Baby tech start-ups received another boost this week with news that the popular crowdfunding platform Kickstarter was relaxing its rules about which kinds of projects could appear on the site.
The website is a popular place for projects to gain both cash and publicity - but it had previously barred several baby-themed proposals under a general ban on "medical, health and safety products".
That had led to a situation in which Owlet's smart sock had been rejected, while Baby Soothe - an infant massage device - had slipped through.
Under the revised rules all baby tech should qualify so long as it does not explicitly claim to cure, treat, or prevent an illness or other condition.
Rival crowdfunding platform Indiegogo is even more relaxed about the baby-related projects it accepts.
It has helped raise money for projects, including Smart Diapers - a nappy that aims to warn of developing urinary tract infections, despite warnings from Dr Laurent and others that the system might lead parents to make unnecessary trips to their doctor.
Whether parents embrace the expanding range of infant-related innovation is part of a wider challenge that faces them, says Mumsnet.
"We're the first generation of parents having to navigate this digital space," says Mrs O'Donovan.
"There's this dilemma to embrace technology - a whole new world - with possibilities that our child will be a coding genius by 11, yet also offers us a child that doesn't interact with others and endlessly plays on Minecraft."
When it comes to winning parents over, tech companies may need to take one baby step at a time.