Moshi Monsters maker reveals new title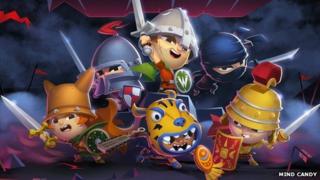 Mind Candy, creator of the hugely popular Moshi Monsters game, has revealed it is working on a new title.
Called World of Warriors the combat strategy game is aimed at casual players aged six and over.
The game will be officially launched in late 2014 and is being developed only for smartphones and tablets.
Mind Candy has released a teaser video showing off the cartoonish look of the game, its characters and some of its environments.
Details of how to play the game are scant but the teaser video suggests players control a warrior who must survive and prosper by beating others in armed combat.
A total of 30 different combatants appear in the video including warriors dressed to resemble Romans, Scythians, gladiators, Apaches, ninjas and blue berserkers.
Those interested can sign up to get updates about the game as it is being completed.
UK-based Mind Candy is best known for the Moshi Monsters online game that gives people control of a monster that they take on quests around the Moshi world. In 2013, Moshi Monsters had more than 80 million registered users according to statistics from Mind Candy.
World of Warriors is being being developed at Mind Candy's Brighton studio and work has been under way on it for about 12 months, said the company.