Netflix to expand to Germany, France and Switzerland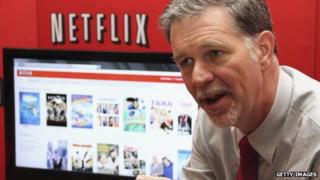 Netflix has announced plans to expand to a further six European countries before the end of the year.
The TV and movie streaming service intends to launch in Germany, France, Austria, Switzerland, Belgium and Luxembourg.
The US-based firm has 48 million subscribers in over 40 countries.
One analyst said the success of the latest rollout might depend on how much content was dubbed into local languages.
"Germany potentially could be quite a difficult market as it has low pay-TV penetration and seemingly low willingness to pay," said Ian Maude from the media consultancy Enders Analysis.
"One thing I'm curious to see in Germany is whether or not it has dubbed a lot of the show for the market because - while French TV has a lot of subtitling - in Germany foreign language movies and TV shows are generally voiced over, and that can be quite an expensive process."
Germany's large number of broadband users - the fourth biggest such population in the world - makes it a potentially lucrative market.
However, Netflix will have to compete against video-on-demand incumbents including Sky Deutschland's Snap, Vivendi's Watchever, ProSiebenSat.1's MaxDome and Amazon Instant Video.
In France, it faces the prospect of competing against a rival that owns the rights to a series branded a "Netflix exclusive" in other territories: Vivendi's CanalPlay owns the domestic rights to the second season of the drama House of Cards in the country.
Netflix also must contend with the fact that French audiovisual laws require local broadcasters to invest significant sums in domestic content. However, Les Echos newspaper has suggested Netflix might get around this by basing the service in Luxembourg.
For now, the firm has only said it would provide "further details, including pricing, programming and supported devices at a later date".
'Figure out stuff'
California-based Netflix reported profits of $53m (£32m) in its most recent quarter.
Despite previous international launches - including the Netherlands last year and the UK in 2012 - the firm's revenue is mostly generated by US subscribers.
Netflix's most recent figures stated that it had 11.8 million members paying for streaming content outside the US at the end of March but about three times that figure within the country.
The firm has previously said that it became profitable in Canada within two years of launch, but has not released similar information about its other foreign ventures.
However, chief executive Reed Hastings recently said the company recognised that it must tailor the content it provided to each audience.
"We've seen tremendous success in the Netherlands, where we launched six months ago, and that, I think, encourages us about being able to figure out the right programming formula in each nation," he told bank analysts in April.
"We're going to learn as we go. If we're very fortunate, we'll have programmed it completely correctly from day one.
"More likely, we'll figure out some stuff's working, some stuff's not; we'll adjust the formula."