Wearing Google Glass can hurt, doctor warns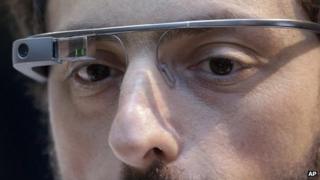 Google has warned people not to use its Glass eyewear for long periods of time because it can cause pain.
The company said the technology was not meant to be used for "reading War and Peace" and takes time to adjust to.
It follows complaints from some users of pain after wearing Google Glass.
Google's optometrist said the problem was caused by the position of the technology, which forces people to look up.
"When anyone gets a new pair of glasses or starts wearing them for the first time there is always an adjustment period until people get used to them. For some, it's the same with Glass," said a Google spokesman.
The company added that it encouraged people to "ease into Glass, just as they would a new pair of glasses". The spokesman said: "As we note in our help centre, Glass is designed for micro-interactions, not for staring into the screen, watching Friday night movie marathons or reading War and Peace."
'Tension'
The College of Optometrists advised anyone who buys Google Glass to get their eyes tested before using it.
The College's clinical adviser Dr Susan Blakeney said: "The optometrist can advise you, they can see how its position will affect you and they can also advise you on how long you should use Google Glass for before taking a rest."
Harvard optometrist Dr Eli Peli, who acted as a consultant to Google during the development of Glass, said it is unusual for people to look up for long periods of time and doing so can be uncomfortable.
"The only people who look up a lot are some professionals like electricians and painters. Most of us look either straight or down. It's well known that up is less comfortable," he told BetaBeat.
He added that people only tend to look upwards for a second at most until their head catches up with their eyes. And he likened the first few times a user wears the technology to standing on one leg for a long period of time.
"Try to stand on one leg for a long time and you'll feel tension, because you're not using it how it's normally used. If you're looking at the Glass for a minute, you're holding it there for 60 times longer than normal," he said.
Some people have complained of headaches, but Dr Peli said the pain was actually a "discomfort in the eye muscles". He added: "To describe it as a headache is inconsistent with how people experience headaches."
In April, the BBC's technology correspondent Rory Cellan-Jones spent a week testing Google Glass and documented his work and home life. He said the technology took some getting used to, but did not cause any pain.
Google believes that only a small proportion of the people who have used Google Glass have experienced discomfort and Dr Peli said that the pain usually lasted up to a week as users' eyes adjusted to the change.
Last month, Google executive chairman Eric Schmidt admitted that wearing Google Glass was "weird". He said that talking to the voice-activated technology while in public was "the weirdest thing," according to a report from the Reuters news agency.
The product went on sale for a single day in the USA in April, priced at $1,500. Google previously sold it to 8,000 individuals in 2013 as part of their Explorer programme.
The BBC understands that UK developers may have access to the device next month.
Google has also been criticised by campaigners, who warned that privacy is impossible when Glass and other augmented reality gadgets are used.