Tree-mapping drone start-up has sky-high ambitions
By Mark Bosworth
BBC World Service, Helsinki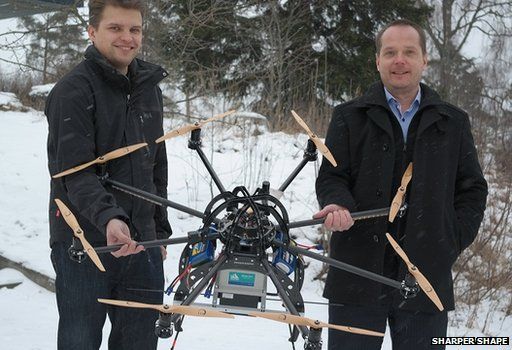 Mapping the trees in Finland's forests sounds like a Herculean task - there are 30 billion of them, making it Europe's most densely wooded nation.
But for one start-up that's just the warm-up act to its plan to use laser-equipped drones to shake up industry at large.
From package deliveries to nuclear power plant examinations, the Helsinki-based Sharper Shape can see limitless possibilities for its system.
But first there are the woodlands.
About 70% of Finland is covered in trees.
That's a boon for the country's pulp, paper, furniture and tourism industries - but a headache for the electricity companies that serve them.
For years the utility firms have had to conduct extensive land surveys to ascertain where to lay power lines as efficiently as possible.
It has involved using helicopters to collect data, which is then analysed by a team of workers - an expensive and time-consuming process.
Tero Heinonen founded Sharper Shape 11 months ago to cut costs by doing the work with UAVs (unmanned aerial vehicles).
"The name of our company - Sharper Shape - comes from the technical capability to re-create the environment in a digital form," Mr Heinonen tells the BBC.
"We create a model that is sharper than the reality."
The firm uses an Octocopter drone fitted with eight rotors and a Lidar (light detection and ranging) laser.
This sensor - already used by road-mapping companies - scans the extensive network of power line corridors through a forest.
The data is processed and transformed into billions of 3D points, known as a "point cloud", that represent the external surfaces of the scanned objects.
"We create a model within a centimetre accuracy of all of the components of power transmission - poles, pylons, isolators," Mr Heinonen says.
"But we also create a model of each individual tree, which enables us to understand the clearance distances."
The data is also used to model the vegetation's growth, allowing the company to predict risks such as when a tree might fall onto the power cables.
Mr Heinonen suggests that his firm's UAVs could reduce utility company costs by up to 50%.
And because the system is fully automated he adds that data analysis that would normally take five months to complete can be done by a machine in a week.
The potential hitch is that the tech has yet to be approved by Finland's aviation regulator, Trafi.
For now the company is working round this by applying for special flying permits for human-operated remote-controlled tests to be carried out in September, in which the drones remain in their operators' line of sight 100m (330ft) above the ground.
"Trafi's primary concern is safety and security," Mr Heinonen says.
"But they fully realise that there is a new paradigm in aviation that is coming. They are taking steps to prepare for UAVs."
There are concerns about having UAVs flying above residential areas.
"While the UAVs would have many positive uses, finding a principle balance to protect the privacy of citizens is not an easy task," says Ville Oksanen, vice-president of Electronic Frontier Finland (Effi), a privacy rights group.
"Anyone can use drones with a camera attached to take pictures of their neighbours, so regulation is needed."
Mr Oksanen adds that technology should be developed that allows people to know who the owners of drones are to minimise their misuse.
Dr Darren Ansell, an expert on UAVs at the University of Central Lancashire, says autopilot and flight control systems have become a lot more stable but there are still big challenges if you want to fly a drone.
"The companies need to make guarantees on the software. Has it been engineered to the levels of integrity of conventional aircraft?" he asks.
"Industry needs to make its case that it can really do this safely."
Sharper Shape is a small team of less than 10 people, but it has big ambitions.
Mr Heinonen says he is in talks with two of the largest geospatial and mapping companies in the world - the Dutch Fugro and Japanese Pasco.
There is also the possibility of a tie-up with Amazon, the world's largest online retailer.
Last December the US firm revealed plans to use drones to deliver packages weighing up to 2.3kg (5l.1b) to customers within 30 minutes of them placing the order - although chief executive Jeff Bezos added that it might take five years for such a service to launch.
Mr Heinonen says he has been in talks with Amazon about Sharper Shape's technology but adds: "I can't say anything else."
For now, the Finnish entrepreneur estimates that 95% of UAV use is for defence and law enforcement purposes.
But regardless of his own firm's fortunes, he says it is inevitable that drones will transform commerce, ultimately becoming as common a sight as delivery vans.
"There will be tens of thousands of them in airspace doing engineering inspection surveys and Amazon-style deliveries," he suggests.
"They will become an everyday object that are taken for granted. The future is going to be very different for us all."
Related Internet Links
The BBC is not responsible for the content of external sites.