Twitch: Has Google valued watching others play games at $1bn?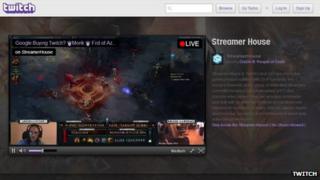 Google is rumoured to be in talks over a $1bn (£593m) deal for the video game-streaming service Twitch.
The fast-growing service allows gamers to broadcast their play live so that others can watch.
It is being reported that Google-owned YouTube has beaten off competition from Microsoft to reach an agreement.
Google is refusing to comment, but two anonymous sources quoted by the Wall Street Journal say talks are continuing and at an early stage.
What is Twitch?
Gamers use Twitch to broadcast their gameplay for other users to watch and provide tutorials. It works on desktop, but perhaps one of the company's main strengths is that it is built into the two major consoles on the market: Sony's PlayStation 4 and Microsoft's XBox One. Indeed, a report suggested that Twitch's desire to remain neutral in that respect was behind its reluctance to sign a deal with Microsoft.
Users can also play games live. A video that allowed users to play Pokemon by entering commands into the comments also proved incredibly popular, with more than 60 million views to date.
Services like YouTube have long been used by players to post footage of themselves playing games, with football games particularly popular. The big difference with Twitch is that it is more akin to live television.
Is watching other people playing games really that big?
In a word, yes. And Twitch is the biggest site for it. According to one analyst, it was bigger in the United States than some of the mainstream sports broadcasters.
In February this year, Twitch reported 45 million unique monthly viewers in 2013, more than doubling its 2012 figure. And it said that six million videos were broadcast per month last year, twice the figure in 2012.
According to a survey by broadband service provider Sandvine released earlier this month, Twitch accounted for 1.35% of all internet traffic during peak hours in the USA.
A report from CBS Interactive in 2012 claimed that the eSports scene - organised tournaments between gamers, some of whom are professionals - was mainly attracting men aged 18 to 34 and Twitch has said it broadly followed that trend. In an interview the same year, two Twitch executives said they were also trying to bring in more female viewers and contributors.
Some broadcasters have huge audiences, but Twitch says it also has many who cater for much smaller ones.
Has it all been plain sailing?
Around the turn of the year, Twitch was forced to apologise and take disciplinary action after a member of its staff banned some users from the site over what it admitted were "innocuous remarks" about him during a row over copyrighted images. The company said that the staff member, who was using the online moniker "Horror", should have recused himself.
It also took action against a volunteer site administrator who censored online posts critical of Twitch during the same argument. "We at Twitch do not believe in censoring discussion, and more to the point know that it's doomed to failure," said a statement.
Who is behind the success?
Perhaps predictably, Twitch is based in San Francisco. It separated from online video broadcaster Justin.tv in 2011 and, in September last year, announced its largest round of new funding to date with $20m invested by three parties, including the publisher of the Grand Theft Auto series.
It said at the time that it hoped the money would help it "grow and tap into new markets". But, only three months later, it admitted it had problems with the reliability of its streaming - problems YouTube could be in a position to solve.
In total, the company has raised $35m (£20.8m) in funding from six investors, so a $1bn deal with YouTube would represent quite a return. And one of the investors in the latest round WestSummit Capital said it expected Twitch to focus on growth in the Asia Pacific region.
Is there money in it?
Advertising is central to Twitch's business. It has its own banner adverts on its site but also allows users to place additional ads within their videos.
Video creators can run ads before or during their broadcasts and receive a share of the revenue generated once the total exceeds $100.
Twitch also allows some members with large followings to become partners who can accept subscribers, normally at $5 per head. Subscribers get privileged access to more content on the selected users' channels and, again, Twitch takes a share of the money.
In addition, the site allows members to donate to each other, potentially making it more attractive to create content, although Twitch does not take a cut of such payments. One user who used the function while claiming to be wheelchair-bound met with trouble when he stood up before his broadcast cut out.
In February this year, the site launched a Turbo subscription service costing $8.99. It spares subscribers the obligation of sitting through adverts and provides additional benefits.