The Sims 4 rated 'mature' in Russia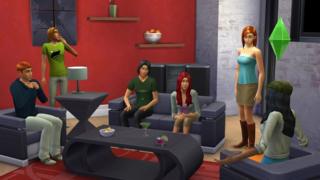 The Sims 4 received a mature rating (18+) in Russia, which some believe is due to its portrayal of same-sex relationships.
According to a recently revised Russian content rating law, same-sex relationships are considered harmful to children.
The law was cited by the game's publisher Electronic Arts in a tweet as the reason for the age restriction.
Fans took to social media to protest about the age restrictions.
The Sims 4 is a video game published by Electronic Arts in which players must satisfy the desires and needs of a group of virtual people known as "Sims".
There are generally very few specific objectives, instead players are encouraged to experiment and explore.
If the player wishes, virtual loving relationships may be orchestrated between two Sims of the same sex, which falls foul of a Russian law intended to protect minors.
The news was tweeted by the official Russian Electronic Arts Sims account.
EA has said in a statement to video gaming website Polygon that it has no plans to alter The Sims 4.
Nintendo woe
Elsewhere, Nintendo has recently apologised for not recognising same-sex relationships in its own life-simulation game, Tomodachi Life.
Type Marini, a gay 23-year-old Nintendo fan from Arizona launched a campaign to allow homosexual couples in the game.
However Nintendo explained that this could not be accommodated due to technical impracticalities.
"Unfortunately, it is not possible for us to change this game's design," explained the company in a statement.
"We pledge that if we create a next instalment in the Tomodachi series, we will strive to design a game-play experience from the ground up that is more inclusive, and better represents all players."
'Disgusting if true'
In 2010, Russia passed a content rating law known as 436-FZ or, "On Protection of Children from Information Harmful to Their Health and Development".
This was primarily concerned with protecting children from harmful material which, "may elicit fear, horror, or panic".
This includes any depiction of violence, substance abuse, or self-harm.
An amendment in 2012 saw the the establishment of a blacklist that censored websites containing the glorification of drugs, descriptions of suicide or the distribution of child pornography.
An additional amendment in 2013 specified that the "propaganda of non-traditional sexual relationships" should also be prohibited.
Fans of the Sims series took to Twitter once it had emerged that the 436-FZ law would be restricting the game in Russia, protesting that the mature rating was unnecessary.
"So im excited for Sims 4, But this makes me sad for Russia, Their Anti Gay Policy is really sad! " said James Wragg, while Jade called it "disgusting if true".
Sims cannot abuse substances, self-harm or commit unlawful activity, which has led followers of the series to believe the rating has been increased to mature in Russia due to the country's recent laws on same-sex relationships.
Typically the Sims series has been rated as suitable for Teens (those aged 13 and up) or Everyone 10+ (those aged 10 and up).
Virtual love
Same-sex relationships are nothing new for the Sims series, which began in early 2000.
In the first instalment, all Sims were capable of becoming attracted to one another, regardless of sex. The second instalment introduced a Joined Union for gay and lesbian couples and the third made marriage available to any romantic relationship.
Electronic Arts was voted as being one of the "best places to work for LGBT [Lesbian, Gay, Bisexual and Transgender] equality" in 2012 by the Human Rights Campaign, with a score of 100%.