Legal deal over remaining MTGox bitcoin hoard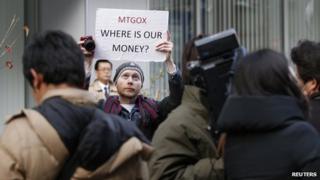 An out-of-court deal could end legal action by many former North American customers of the failed MtGox bitcoin exchange.
It shut down in early 2014 following attacks that meant it lost millions of dollars of the online currency.
Angry US and Canadian customers of the exchange filed a class-action lawsuit seeking compensation for their losses.
The deal hands the failed exchange to the former customers and nets them a share of its remaining bitcoins.
MtGox was one of the first to be involved in the bitcoin boom, a peer-to-peer online payment system, and was for a while the world's largest bitcoin exchange.
It closed its doors in early 2014 after revealing that it had lost about 850,000 bitcoins that at the time were worth about $400m (£238m).
'Best option'
The Tokyo-based company is scheduled to be liquidated after it abandoned plans to revive the exchange.
In return for ending the class action, the former customers will share 16.5% of Sunlot - the company that has applied to buy and administer MtGox's assets.
In addition, they will receive a share of the 200,000 bitcoins and $20m in cash still held by MtGox.
"This is the customers' best option and the only chance they have for full restitution," said a statement from Jay Edelson of the Edelson law firm handling the US case.
The Japanese administrator overseeing the liquidation of MtGox has yet to approve Sunlot's application to take over and dispose of the exchange's assets.
If this is granted, US courts will also have to approve the deal to let the customers wind up their legal action.