Police crackdown on fake goods sites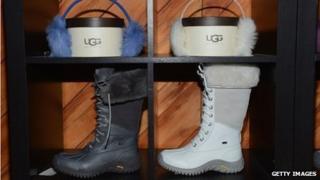 More than 2,500 websites selling counterfeit goods have been closed down by the City of London Police.
The sites were selling fake designer goods including Ugg boots, GHD hair straighteners, Jack Wills clothing and items from Gucci.
According to the police the websites are estimated to make tens of millions of pounds for organised criminal gangs.
The Police Intellectual Property Crime Unit (Pipcu) was set up in 2013 and focuses on crimes committed online.
DCI Andy Fyfe, head of Pipcu, said: "Behind many of these websites lies an organised crime gang funnelling off the money spent by unsuspecting customers on what they think are quality products.
"Consumers also need to be aware that by accessing websites like this they are running the risk of their personal details being compromised and being used for other fraudulent scams, as well as the exposing their computer to malicious malware."
Pipcu urges customers to use common sense when shopping online and advises that legitimate popular technology and designer items are rarely discounted.
It also suggests shoppers type web addresses directly in to a browser, rather than clicking on a link, and always check to make sure it is the correct address.
Customers should check that the web address starts with "https", which indicates any payment would be secure, and should never enter their Pin code, the advice suggests.
The police unit works with brands to identify websites selling fakes. If the brand confirms that a site is selling counterfeit goods, a request is passed to the body responsible for registering domain name addresses to suspend the site.
Jeweller Thomas Sabo is one company who worked with Pipcu.
"This initiative sets a massive strike against fraudulent sellers and ensures consumer protection as well as protection of the UK economy itself," said brand protection manager, Daniela Suss.
Pipcu has also worked with Europol and US authorities in the past in a worldwide operation to reduce online intellectual property crime.
As well as targeting sites that sell counterfeit goods, Pipcu has previously clamped down on websites illegally hosting copyrighted content.
The operators of sites thought to be breaking the law were contacted by the police and asked to remove the content. Those that did not reply had their details passed to domain name registrars also with a request for the site to be suspended.
Pipcu is funded by the Intellectual Property Office, which is part of the Department for Business, Innovation and Skills.