US watchdog to propose new net neutrality rules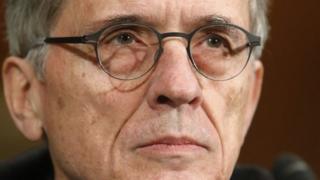 The US government may be about to propose new rules which would allow net providers to charge more for some services to be carried on its networks.
According to US reports, the Federal Communications Commission will allow a fast lane for data-heavy services when new rules are published in May.
If true it would undermine the net neutrality principle that all internet traffic should be treated equally.
The Federal Communications Commission said the reports were "flat out wrong".
Both the New York Times and the Wall Street Journal quoted unnamed sources saying that the FCC is planning to allow internet service providers (ISPs) to offer a fast lane into people's homes for content providers willing to pay for it.
It would mean that ISPs such as Comcast and Verizon would be able to charge companies such as Netflix, Amazon, Disney or Google different amounts for priority services.
The reports claim that although ISPs would be prohibited from blocking or discriminating against online content, they would be able to strike special deals as long as they acted in a commercially reasonable manner.
Increasingly the biggest US ISPs are keen to charge for data-hungry services such as Netflix, and ISP Verizon recently won a court case in which it successfully challenged the FCC's right to stop it.
The case forced the FCC to rethink its rules but chairman Tom Wheeler was quick to deny the reports that it was about to do a major U-turn.
He said: "There are reports that the FCC is gutting the Open Internet rule. They are flat out wrong.
"Tomorrow we will circulate to the Commission a new Open Internet proposal that will restore the concepts of net neutrality consistent with the court's ruling in January.
"There is no 'turnaround in policy'. The same rules will apply to all internet content. As with the original Open Internet rules, and consistent with the court's decision, behaviour that harms consumers or competition will not be permitted."
Unnecessary tolls
Free Press, a group which advocates an internet where all traffic is treated equally, is convinced that the FCC is on the verge of a U-turn and warned that would be a disaster for consumers.
"Giving ISPs the green light to implement pay-for-priority schemes will be a disaster for start-ups, non-profits and everyday internet users who cannot afford these unnecessary tolls," said chief executive Craig Aaron.
Most experts predict that if content providers are forced to pay extra fees to get their services on the network, those costs will be passed on to consumers.
The story behind the need for new rules is complex and ISPs are already starting to charge some data-hungry services extra.
In February Netflix agreed to pay a new fee to ISP Comcast in order to end a slowdown that subscribers were experiencing on its online video site.
At the time Netflix chief executive Reed Hastings was outraged by the fee and published a blog post arguing for much stronger net neutrality rules.
"If this kind of leverage is effective against Netflix, which is pretty large, imagine the plight of smaller services today and in the future," he said.
"Without strong net neutrality, big ISPs can demand potentially escalating fees for the interconnection required to deliver high quality service."
While the concept of an open and equal internet is likely to elicit near-universal support from citizens, regulators and others, what it means in practice is more complicated, said Analysys Mason analyst Nico Flores.
"The internet might evolve to a model similar to pay TV, in which carriage negotiations lead to confidential commercial agreements between the parties, occasional 'blackouts' and a different set of content offerings available through each operator," he said.
Switch provider
For their part ISPs argue that Netflix members account for about 30% of peak net traffic and say it is perfectly fair to ask it and similar data-hungry services to help pay for delivering this to consumers.
The debate takes on greater resonance in the US because many net users have little choice about which operator they can use and, because services are bundled, it is often difficult to switch providers.
Europe is currently fighting its own battle to enshrine the principles of net neutrality in law.
At the beginning of the month the European Parliament voted to restrict ISPs from charging services for faster network access. It has some more legislative hurdles to cross yet but could become law by the end of the year.