Tesco Broadband faces double fault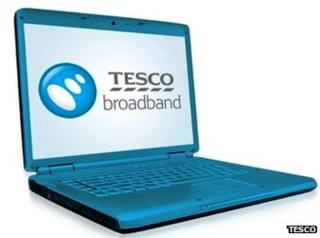 Tesco's internet service has been hit by two separate problems that coincided, leaving some of its customers irate.
The company's email servers experienced an undisclosed fault that left some subscribers unable to send or receive messages.
Meanwhile an unrelated technical issue caused customer calls about the email glitch to go unanswered.
Users complained they could not get a response for more than a day.
Tesco has now set up a dedicated section on its site and is tweeting replies to individual subscribers.
A spokeswoman said the retailer had been aware of "intermittent" problems with its email service on Tuesday but the issue had become more "solid" on Wednesday morning.
"We are investigating the cause of the issue as a priority and already have a dedicated team on hand, who are working on repairs," she added.
"We have also received reports that some customers are having difficulties contacting our call support service.
"This appears to be caused by a technical problem from one of our communications partners. The issue has been identified and our partners are working to resolve this problem quickly."
A message on Tesco's help page indicated the email service had been restored at 15:00 BST -about 36 hours after the problem first started.
Frustrated customers
Several customers had contacted the BBC to complain about the issue earlier in the day.
Among them was one long-time subscriber from Sandhurst, Berkshire.
"I think it's poor that until they were pressed they didn't put anything up on their website," said Richard Whitbread.
"Certainly, yesterday I tried to give them details that you couldn't even ping their email server and all of that was ignored.
"It was only after I spoke to the PR department that they seemed to take it all rather more seriously."
Tesco said the email hitch was not limited to any specific part of the UK, and it believed "hundreds rather than thousands" had been affected, although it said the tally had yet to be confirmed.