Controversy flares as Condoleezza Rice joins Dropbox board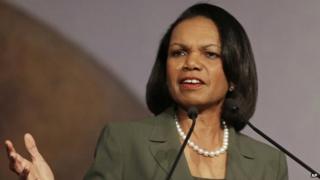 The appointment of ex-US Secretary of State Condoleezza Rice to the board of technology firm Dropbox is being criticised by some service users.
Protests on social media say she is a controversial figure after revelations of widespread wiretapping on US citizens during her time in office.
A petition has been launched inviting supporters to boycott the firm.
However some analysts claim the bigger concerns for the file-sharing company are competing services.
Following the launch of Mailbox for Android and the wider implementation of Dropbox for Business, the company also announced the addition of Condoleezza Rice as a new board member.
Ms Rice, who served as former President George W Bush's Secretary of State from 2005 to 2009 and National Security Adviser 2001 - 2005, was appointed by the company to expand its global footprint, according to its official blog.
However, this has been condemned by some Dropbox users who have launched a campaign.
Voicing concerns on social media, some have said it is inappropriate for the file-sharing company to hire Ms Rice, accusing her of being involved in widespread wiretapping during her time in office.
Those pressing Dropbox to revoke Ms Rice's appointment are using the hashtag #DropDropbox in an attempt to boycott the company. A petition has also been created which amassed approximately 3,000 signatures in its first few hours.
Another site said: "This is deeply disturbing, and anyone - or any business - who values ethics should be concerned," before listing a number of Dropbox alternatives for those who wish to boycott the company.
It also says Ms Rice should not hold power at Dropbox because of her role in the Iraq war.
'Short-term'
However, Chris Green, Principal Technology Analyst of Davies Murphy Group, told the BBC that most users probably wouldn't be concerned over Ms Rice's appointment.
"The vast majority of the company's 275 million users are unlikely to be swayed or concerned by the short-term negative PR that Condoleezza Rice's appointment is generating for Dropbox," he said.
"The backlash is fuelled far more by pent-up anger at the administration she served in than a genuine concern for the security of Dropbox users' data.
The bigger concern for Dropbox, says Mr Green, is the growing competition it faces, which includes big names such as Microsoft, Google and Amazon.
All of them "are offering competing services with either more free storage or more compelling commercial packages than Dropbox offers."
The company has yet to release an official statement addressing the backlash, but a recent Dropbox blog post said: "We're honoured to be adding someone as brilliant and accomplished as Ms Rice to our team."