Net neutrality law adopted by European Parliament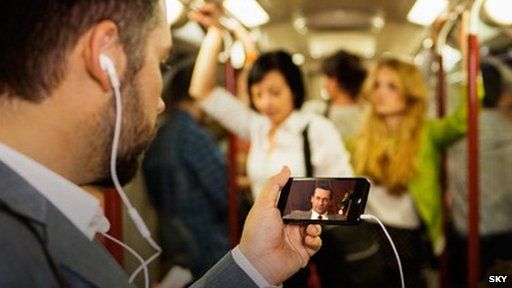 The European Parliament has voted to restrict internet service providers' (ISPs) ability to charge data-hungry services for faster network access.
Operators have said the move would hinder their efforts to manage traffic.
The "net neutrality" proposal would put the EU at odds with the US, where video streaming service Netflix is paying the country's biggest cable firm for preferential treatment on its network.
The law still needs to be approved by Europe's Council of Ministers.
It would also prohibit mobile networks and broadband providers from blocking services - such as WhatApp messages or Google Drive storage - that compete with their own offerings.
At present Slovenia and the Netherlands are the only members of the 28-nation bloc to enshrine the principle in law.
The principle behind the proposed law is that all internet traffic should be treated equally regardless of its source.
MEPs feared that unless new rules were put in place, internet providers might threaten to slow down traffic from data intensive services - such as video-on-demand and cloud storage - unless the firms behind them paid a fee.
However, the mobile and cable firms have warned that the law would also prevent them from being able to offer enhanced services - for example charging a movie site a fee to ensure that their 4K ultra-high definition films played smoothly on consumers' devices when they might otherwise stutter.
"Whilst we support an open internet, a set of misconceptions about our industry, together with a rushed legislative process and a lack of technical analysis, risk transforming the Connected Continent Regulation into an anti-innovation and anti-consumer choice legislation," said a joint statement from four trade bodies representing cable and telecom operators.
"The current draft legislative compromise in the European Parliament reflects very restrictive views on how the internet should work and on how specialised services with enhanced quality could be offered."
BT added that the UK's major ISPs currently operated under a voluntary code that promised to treat all traffic consistently, regardless of its source, which already provided "an extremely strong safeguard for the neutrality of the internet".
However, the news is being welcomed by others.
French digital rights campaign group La Quadrature du Net described the vote as being hugely important.
"The EU Parliament made clear that the internet commons should be free of corporate capture, and remain a space where freedom of communication and innovation can thrive," it said.
The BBC also signalled the law could also prove beneficial.
"The open internet remains a key distribution platform for existing offers like BBC iPlayer and innovative new services," said a spokesman.
"New EU laws could help sustain these benefits and be a welcome addition to the safeguards around the successful open internet model in the UK."
The proposal should mean subscription services - such as Netflix, Amazon Instant Video, Blinkbox and Sky Go - do not have to face raising their own charges to take account of new data speed fees from the ISPs.
However, with telecom and cable companies needing to cover the cost of infrastructure upgrades to cope with increasing data demands, one market watcher warned that consumers should expect bigger bills.
"One way or another the costs will always be passed on to the end-user," said Chris Green, a tech analyst at the Davies Murphy Group consultancy.
"That could be through higher ISP charges: monthly broadband fees have been bottoming out for years and in many cases have been sold as loss leaders - that's likely to change off the back of this ruling."
He added that there were still ways for internet providers to charge additional fees, noting that several organisations already paid them to add special computer servers dedicated to storing their content to help save bandwidth.
"The ISPs can still charge the video providers to install data caching hardware inside their networks to enhance their services," Mr Green said.
A spokeswoman for the European Commission said that if the net neutrality proposal cleared its remaining hurdles, it could become law by the end of the year.
Related Internet Links
The BBC is not responsible for the content of external sites.