British firm Ovivo Mobile shuts down without warning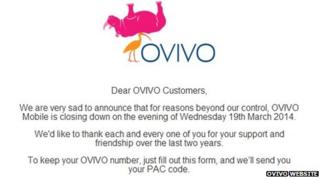 British firm Ovivo mobile has shut down without warning, citing "reasons beyond our control" in a posting on its website.
Ovivo was a mobile virtual network operator that allowed customers access to Vodafone's network for no monthly fee.
It funded operations by advertising, which users agreed to view every 10 minutes.
Ovivo customers immediately took to web forums to express outrage.
Most were upset that the firm did not warn customers, and even allowed some purchases to go through as late as Wednesday afternoon.
Users reported that mobile phone services had been shut down, and that they could not access their accounts on Ovivo's system to retrieve unused credit.
Ovivo wrote on its website that customers could fill out a form in order to keep their number, but cautioned "there is a high demand for this service" and the code needed to ensure ownership may take some time to arrive.
According to industry websites, the mobile firm had around 50,000 subscribers.
The firm's Twitter and Facebook accounts have also been deactivated.