Chromecast - a TV game changer?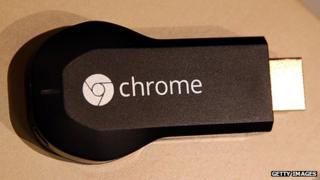 The internet and TV is the marriage that has continually been put on hold.
Back in 2012 I speculated that the long-awaited digital union would finally be consummated in British living-rooms that year - and yet viewers remained largely unmoved. Literally - the latest Ofcom figures showed that most of them still sit back on the couch, switch on the TV and watch what is on one of the main channels, rather than plunging into the delights of the on-demand world.
But now there are signs of movement. On-demand services are gaining traction, and a population that is buying an awful lot of smartphones and tablets is learning that there are all sorts of ways to catch up with their favourite programmes. This week, a BSkyB executive released some interesting figures about the premiere of the American drama series True Detective. It attracted just over 200,000 live viewers, but throw in those who recorded it with Sky+, downloaded it, or caught other screenings and you get a total audience of 1.8 million.
And today comes what could be another key moment in the slow transformation of our viewing habits, the UK launch of Google's Chromecast. This is a piece of kit which plugs into the HDMI port of your television and then allows you to stream video from any device - a smartphone, a tablet, a laptop - to the big screen.
A number of TV on-demand services including Netflix and the BBC iPlayer have tweaked their mobile apps to allow you to "cast" their content onto the screen, or you can simply open a Chrome browser on your computer, go to a video site and stream that to your television.
Chromecast, which has been on sale in the United States since last year, isn't radically different from products like Apple TV or Roku, except for one thing - the price. At £30, it is cheap enough to reach a market beyond the enthusiasts who have so far been the audience for smart TV devices. Indeed, one major retail chain is betting that as many as three million of the devices will be sold in the UK this year.
Of course, Google has been here before. Its Google TV platform appeared to offer a software route to web TV, but with little in the way of compelling programmes few people were prepared to step on board.
So will this hardware approach be more successful? This week I discussed the future of TV - and Google's role in it - with a man who has his own ambitions to transform the industry. Erik Huggers was the BBC Future Media boss, in charge of the iPlayer and the corporation's online operation and digital strategy. He left to join the chip-maker Intel, where he conceived a hugely ambitious plan to start a broadband television service in a US market dominated by big cable operators.
Too ambitious, in the view of Intel's new CEO, who has sold the entire operation - and with it Mr Huggers - to the mobile giant Verizon.
Erik Huggers says Google's Chromecast is an interesting product at an attractive price point, but, perhaps unsurprisingly, he doesn't see it as a game-changer: "It doesn't tackle the pay-TV question," he says. "As a consumer I want a solution that helps me get rid of a dozen remote controls. I want a single service that delivers an all-in-one experience - live TV, catch up TV, subscription TV - all nicely organised. The organisation that achieves that is going to have an incredible winner on their hands."
Naturally, he believes that his operation at Verizon stands a good chance of doing that. But Google, Microsoft, and perhaps Apple - not to mention TV giants like BSkyB and America's Comcast - all have ambitions to be the one that delivers that perfect marriage between the web and the TV viewer.