Miss Teen USA hacker jailed for 18 months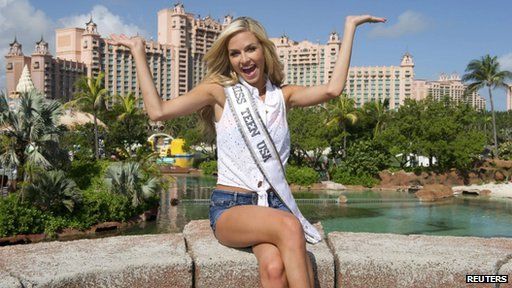 An American teenager who blackmailed young women with compromising images grabbed by hacking their webcams has been jailed for 18 months.
Jared James Abrahams broke into about 150 online accounts over a two-year period to commit the crimes.
More than two dozen women in the US, Ireland and other nations had their computers hacked by Abrahams.
One victim was Miss Teen USA 2013 beauty contest winner - Cassidy Wolf.
Abrahams was arrested in early 2013 and pleaded guilty to one count of computer hacking and three of extortion in November.
In a statement about the sentencing, the US Department of Justice said Abrahams had targeted women he had known personally or found by hacking their Facebook pages. Abrahams took over email, social media accounts and computers and used this access to remotely turn on the machine and grab pictures when his victims were naked.
"As digital devices, email accounts, and social media accounts now contain the most intimate details of the public's daily lives, the impact of this type of hacking and extortion becomes more pronounced, troubling, and far-reaching," wrote DoJ prosecutors in a document filed in advance of the sentencing hearing.
"In some cases, this type of criminal behaviour can be life-changing for the victims - especially for vulnerable victims who may feel it is impossible to rebuild their tarnished reputations," said the document.
People should be careful where they posted images and videos to avoid becoming a victim of extortion and escape the risk of compromising content being stolen, said the DoJ. In addition, it said, people should choose hard-to-guess passwords, keep security software updated and avoid opening unexpected attachments.
Lastly, it said, people should keep webcams covered when they are not in use.
Related Internet Links
The BBC is not responsible for the content of external sites.