New-look iPlayer unveiled by BBC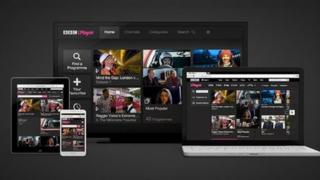 The BBC has unveiled an update to its on-demand iPlayer service, which will include new online-only shows for "a BBC Three audience".
The BBC has been under fire over plans to move BBC Three, a channel aimed at a younger audience, entirely online.
Almost 200,000 people have signed a petition calling for the BBC Three plans to be scrapped.
But BBC director general Tony Hall said the iPlayer would instead become the starting point for new talent.
He told a news conference the service would allow programmes to be made in "new interesting, creative ways that we can only imagine at the moment".
Director of BBC Television Danny Cohen said that despite the petition, the changes to BBC Three would go ahead if approved by the BBC Trust.
Recommendations
The new iPlayer features responsive design - meaning the look of the page, and some functionality, adapts depending on what kind of device is being used.
The service will recommend more programmes to visitors, due to a growing number - currently 42% - of people who visit iPlayer without any particular programme in mind.
The Collections section will highlight archive content and will group together programmes around particular themes or events.
The first of these will be a selection of 14 interviews with World War One veterans.
Paolo Pescatore, an analyst at CCS Insight said the move was intended to make the iPlayer more like popular on-demand service Netflix.
"The aim of this move is to ensure that the BBC's own offering stands out from the crowd and to provide a more simple user experience to discover and access its content," he said.
"It also reflects the growing traffic driven to iPlayer from mobile devices.
"We believe that it won't be long before requests from mobile devices will exceed those from other devices such as computers and other connected devices."
The service will also host exclusive comedy content from Frankie Boyle, Bob Mortimer, Meera Syal, Morgana Robinson, Micky Flanagan, Matt Berry and Stewart Lee.
Film-maker Adam Curtis is producing three projects that will be available from July.
"[iPlayer] frees one from the constraints of scheduling and format on the traditional TV channels - and I think that may allow stories to become far more emotionally involving and complicated," he said.