Aga Rangemaster profits simmer down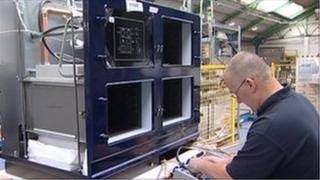 Aga Rangemaster profits cooled last year, mainly because of pension costs, shop closures and site rationalisation.
Profits before tax for 2013 fell to £1.1m from £1.7m a year earlier, the kitchen appliance maker said in its annual statement.
However, a stimulated UK housing sector provided a much-improved market for the firm's products.
Good sales of Aga cookers in the autumn pushed flagging Aga sales figures up 10% in the full year.
Government and private sector efforts to stimulate the housing sector had a positive effect on overall sales, chief executive William McGrath said.
"The tide turning in the housing market proved pivotal and we will benefit as the number of house moves increases," he said.
"As revenues start to grow, with capacity available and with new products and a widened targeted customer base, we are confident of good progress in the year."
The firm's Fired Earth home decoration range returned to profitability after some years, with a pick-up in revenues of over 5%.
However, markets remained difficult for Rayburn and Stanley cookers, which relied heavily on refurbishment projects.
Pre-tax profits were down because of a pension charge, as well as site rationalisation programmes involving Waterford Stanley in Ireland and Grange in France.
Profits were also affected by the costs of closing certain retail outlets and a warehouse in North America.
Nevertheless, operating profits were up 26.2%, from £6.5m in 2012, to £8.2m last year.
The company plans to move into the Chinese market, having gained accreditation to sell Rangemaster cookers. The China product, developed with Chinese oven-maker Vatti, has a wok-burner system.