Slow broadband 'damaging education' for rural families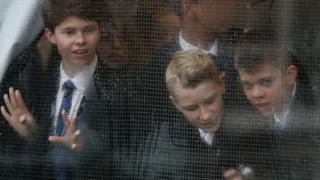 Rural families say that lack of suitable broadband access is damaging their children's education.
A survey conducted by insurance firm NFU Mutual suggest one in five rural families have poor broadband links.
In turn this is preventing their children accessing online educational resources, the survey of 1,600 parents found.
More than a third of those with internet access said that broadband was too slow for their needs.
"As more educational resources become internet-based, country children risk falling behind their urban counterparts," said Tim Price, rural affairs specialist at NFU Mutual.
"Rural communities are already falling way behind and as the digital revolution gathers pace there's a real risk that the viability of some rural businesses will be threatened and children be put at a disadvantage," he added.
Not only are rural households less likely to have superfast broadband but they are also half as likely as urban dwellers to use mobile broadband through 3G and 4G networks, the survey found.
More needs to be done to educate rural communities about the benefits of mobile broadband, thinks Sarah Lee, head of policy at the Countryside Alliance.
"Our own research suggests that rural households are less likely to use 3G and 4G but these networks are coming sooner than fixed line broadband and represent a good alternative," she said.
By 2017, the government wants to see 95% of the UK on superfast broadband - defined by the EU as speeds of 30Mbps (megabits per second) or higher.
Scottish notspots
One of the biggest issues facing rural communities is that even if the telephone cabinet in their area is upgraded to fibre broadband, the speed that they will get depends on the distance they live away from it.
"If you live 600 metres or more away from the cabinet you might as well be on dial-up," said Ms Lee.
A study of the Scottish broadband rollout conducted by researchers at the University of Edinburgh has found that up to a third of a million households may miss out on superfast broadband because their properties are too far away from upgraded cabinets.
Scottish government targets to have superfast broadband to 95% of homes by the end of 2017 may actually reach less than 80%, the study concluded.
Inca (The Independent Networks Cooperative Association) has set up a broadband notspot registry and is asking people with slow broadband to register in order to build up a UK-wide map of where broadband is most needed.