Mobile World Congress: What to expect from Barcelona
By Mark Gregory
Technology reporter, BBC News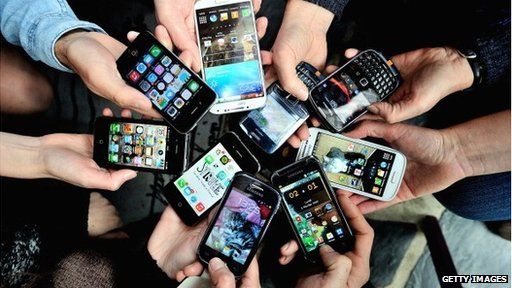 If you are interested in portable tech, the place to be this week is the Mobile World Congress in Barcelona.
It is the annual bean feast and trade show for the mobile sector, with a brief that roams from smartphones and tablets to fast-emerging new areas such as wearable technology and the internet of things.
Most of the gadgets featured are small - but the event is huge.
This year there are 1,800 exhibitors vying for the attention of a likely 75,000 delegates and 3,500 journalists, all milling around in a cavernous 98,000 square metre, purpose-built conference centre that was used for the first time last year.
The city fathers of Barcelona have reasons to be pleased.
The organisers claim the event has created more than 7,000 temporary jobs and added 350m euros (£285m) of extra spending to the local economy.
Expected high points include major product launches from Samsung and other phone makers, along with a keynote address by Facebook founder and chief executive Mark Zuckerberg.
His speech will focus on the lofty theme of extending internet coverage in developing countries, where an estimated 3.5 billion people - half the world's population - still have no access.
Mr Zuckerberg is not expected to dwell on the latest big news at Facebook: its decision to spend $19bn buying WhatsApp, a free instant messaging service with 450 million users but no obvious sources of revenue.
But for many of those attending, the real business of Mobile World Congress is the unveiling of shiny new kit.
Samsung is likely to be the company creating the most noise with the expected launch of the Galaxy S5, an upgrade to its flagship smartphone, at an event called Unpacked 5, being held away from the main conference venue.
"It's a massively important product for Samsung," says Ben Wood, senior analyst at CCS Insight.
It is reported that the South Korean electronics giant brought forward the release of its latest phone to counter flagging sales of the current model, the S4, released less than a year ago.
"They need to refind the impact of its predecessor, the Galaxy S3, which had acted as a halo device for the whole Samsung range, helping them to sell lots of other devices," says Mr Wood.
Smartphone makers do not necessarily sell many of their most expensive top-of-the-range phones but they make larger profits on each device sold and rely on them to generate interest in the more ordinary models most customers buy.
The market is huge. This year it is likely that global smartphones sales will exceed a billion units for the first time.
Other manufacturers including Sony, Nokia, HTC and the Chinese manufacturers Lenovo and Huawei are also expected to launch major new products at Mobile World Congress.
There will be particular interest in what the Chinese come up with. Lenovo and Huawei already sell vast numbers of phones in their home market and have set their sights on global expansion, but so far progress has been patchy.
"The reality is the Chinese companies… have found it a lot tougher than they had anticipated to break into markets beyond China," says Mr Wood.
But there is no doubting their ambition. Huawei, for example, has set itself a target of becoming one of the top three global phone makers by 2017.
People close to the company say it has the technical capability but where it needs to make progress is in building awareness of its brand, especially with US and European consumers.
The battle for the hearts and wallets of smartphone and tablet buyers is only part of the story at this year's Mobile World Congress.
As that market matures, tech companies are increasingly looking into newly emerging areas, with a big focus on wearable technology - gadgets worn on the body.
"I think the whole topic of wearables will be very prominent," says Michael O'Hara, chief marketing officer at the GSMA, the organisation behind the congress.
Several new smartwatches and fitness products worn on the wrist will be launched at the event.
Mr O'Hara is excited by the prospect of clothing that brings healthcare benefits through monitoring the wearer's bodily functions, including "a shirt that measures your heart rate without having sensors built into it. It does it through the fibres in the clothing and transmits that information."
It will be shown off at Mobile World Congress not by tech gurus but by a team of basketball players.
Related Internet Links
The BBC is not responsible for the content of external sites.