Blackberry boss 'outrage' at T-Mobile iPhone offer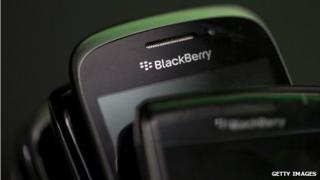 The boss of Blackberry says he is "outraged" after T-Mobile in the US targeted his customers offering them a free upgrade to an iPhone 5s.
After Blackberry customers complained on social media, chief executive John Chen called the promotion "inappropriate and ill-conceived"
T-Mobile apologised for any confusion and said it was happy to be a "Blackberry partner".
Blackberry has lost market share to Apple's iPhone and other smartphones.
T-Mobile sent emails last week advertising a free upgrade to an iPhone 5s and calling it "a great offer for Blackberry customers".
Offered a choice
The promotion annoyed some users, who took to Twitter to complain to T-Mobile.
"As a T-Mobile customer I felt like you don't want to support Blackberry at all. So I'm thinking about switching," wrote one customer in a tweet to T-Mobile's US chief executive John Legere.
Another called the advert "juvenile" and said "trying to get Blackberry owners to switch to iPhones won't work. My company needs efficiency".
Mr Legere responded and said he was hearing Blackberry users "loud and clear", pointing out that they would not have to give up their phones, but were just being offered a choice.
In a blog on Blackberry's website, Mr Chen said the company had not been told about T-Mobile's plans in advance and it understood its customers' anger.
"I can assure you that we are outraged too. What puzzles me more is that T-Mobile did not speak with us before or after they launched this clearly inappropriate and ill-conceived marketing promotion," he wrote.
He also had a message for T-Mobile: "I would like to remind you that our long-standing partnership was once productive and profitable for both Blackberry and T-Mobile. I hope we can find a way forward that allows us to serve our shared customers once again."
T-Mobile confirmed that Blackberry devices were still available for people to buy and that other users of Blackberry devices could switch to the network if they wanted.
Blackberry was once a dominant player in the smartphone market but has lost ground to Apple, Samsung and other rivals.
It launched a new model, the Z10, in 2013 which it hoped would help revive its fortunes but disappointing sales and poor financial results led to a company shake-up.
Mr Chen was appointed interim chief executive in November and the company announced that 4,500 jobs, or 40% of its workforce would be cut.
On starting his role, Mr Chen said he would refocus the company to rely less on handsets and more on the company's services business.