Samsung sues Dyson for 'copycat claims that hurt image'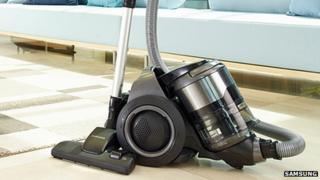 Samsung is suing Dyson in the South Korean courts for 10 billion won (£5.6m), claiming that legal action taken by the UK company for copyright infringement hurt its corporate image.
Dyson took Samsung to court last year, saying it had "ripped off" a patent on a steering mechanism for cylinder vacuum cleaners.
Samsung rejected the accusation and Dyson later dropped the case.
Dyson said it was surprised by this latest action.
Last August, the British company launched a court case against Samsung in the UK courts, saying that designs for the steering mechanism on its Motion Sync vacuum cleaner range was a direct copy of Dyson's DC37 and DC39 models.
'Prior art'
At the time Sir James Dyson, the company's founder, said: "This looks like a cynical rip-off. I find it hard not to believe that this is a deliberate or utterly reckless infringement of our patent."
After Samsung presented "prior art" - examples of the technology being used before it was patented - Dyson dropped the case.
But in a statement to the Korea Times on Sunday, a Samsung spokesman said it had filed a new case in the South Korean courts.
"Last week, Samsung Electronics' legal counsel filed legal papers with the Seoul Central District Court against Dyson as the latter's previous litigation has hurt Samsung's corporate image.
"Samsung's marketing activities were negatively affected by Dyson's groundless litigation, which is intolerable," he said.
A spokesman for Dyson told the BBC that the company had not yet received a letter of complaint from Samsung but went on to say in a statement: "Dyson pioneered cyclonic vacuum cleaners and digital motors - and has been developing them ever since.
"We patent our technology, and naturally defend it. It is surprising that a company over 100 times bigger than Dyson is so worried.
"The patent system offers us some protection but not enough."
In February 2009 a judge ordered Samsung to pay about £600,000 of Dyson's legal costs after the UK company challenged its rival's attempt to patent a suction technology already used in its "triple-cyclone" cleaners.