Thousands play Pokemon on Twitch simultaneously
By Carolyn Rice
Technology reporter, BBC News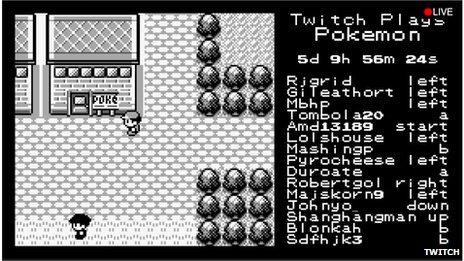 Tens of thousands of people are simultaneously playing an online version of video game Pokemon in what its creator calls a social experiment.
They are all trying to control one character in the game at the same time, using social gaming video site Twitch.
Twitch is a website that lets users broadcast and watch games and use an online chat function while playing.
The game, Pokemon Red/Blue, was originally launched on Nintendo's Game Boy handheld in the 1990s.
Players use Twitch's chat function to type in one of the original game's eight commands - up, down, left, right, A, B, start or select - to move the main character in the game.
Some users are hailing the development as part of internet history, while others question the point.
Only one command can be typed at a time, and because of the way Twitch's servers work to allow a lot of people to view at the same time, it can take up to 40 seconds for the command to register.
A five-second rule was introduced at one stage to try to bring some order as several players typed commands at the same time. Whichever command was typed the most over a five-second period was carried out.
More than eight million people have viewed the game since it was put online last week.
In an official blogpost. staff at Twitch said as many as quarter of a million people had participated in the game, and they suggested it could be a pivotal moment in gaming.
"Possibly the greatest by-product of this experiment is that this could be the biggest 'we' moment in the history of gaming - thousands of people working in chaotic unison... driving a single protagonist through a game."
Progress of the main character, Red, through the game's levels has been slow as so many users try to control him.
The aim of Pokemon Red/Blue is to become champion of the fictional region known as Kanto by defeating eight "Gym Leaders".
If players get this far, they gain access to the "Elite Four", who are the "top Pokemon trainers in the land".
But the creator of Twitch Plays Pokemon is unsure whether the community of gamers currently taking part will reach this stage.
"I'm going to let it continue to run 24/7. I'd like to see the Elite Four beaten, but I have my doubts about it being possible without much better co-ordination," he told Polygon.
"As someone who has only tuned into the stream to see [Red] walk back and forth for 15 mins. What does this all mean?", posted Nem00.
Others were more taken with the game's popularity.
jmdbcool wrote: "This is a part of internet history, happening right now. Someday you will tell your children the story of legend, when Twitch played Pokemon."
Related Internet Links
The BBC is not responsible for the content of external sites.