Five arrested in Utopia dark net marketplace crackdown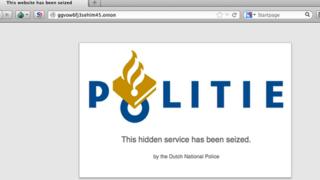 Dutch and German police have arrested five people and shut down a "dark net" website as part of an investigation into online criminal marketplaces.
Utopia had been used to trade drugs, stolen credit cards and weapons among other illegal goods, the Dutch public prosecution service said.
The site's pages had been hidden to the public unless they accessed Tor - an otherwise invisible layer of the net.
Police also seized 900 bitcoins, worth about £363,000 or $610,900.
The virtual currency is sometimes used to make it hard to track online transactions.
The announcement follows the FBI's seizure of Silk Road - another dark net marketplace - in October.
The Dutch authorities said their operation - codenamed Commodore - sent out a message that no-one was "untouchable" on Tor.
However, one journalist who covers the sector said dozens of illicit marketplaces remained online.
Seized site
Utopia had only launched nine days ago. The DeepDotWeb news site posted screenshots at the time that showed guns, hacking kits, cocaine and counterfeit goods being offered for sale.
By the time Utopia went offline on Tuesday there were more than 13,000 listings on its pages, with many of the traders offering to ship their goods worldwide.
Prices were quoted in euros, but purchases could by made via the virtual currency Bitcoin to help keep the transactions anonymous.
Visitors to the site are now greeted by the Dutch police force's logo and a message saying: "This hidden service has been seized."
Two Dutch men, aged 30 and 31, alleged to have run the service had also been involved in another dark net site, Black Market Reloaded, which had closed towards the end of 2013, said prosecutors.
The other suspects arrested on Friday are:
a 29-year-old from Utrecht, who the prosecutors said they believed had been involved in several other unnamed black market marketplaces in addition to Utopia
a 46-year-old Dutch national accused of illegal trade over the internet and an attempt to incite murder
a 21-year-old German, arrested in Bad Nauheim near Frankfurt, accused of selling hard drugs and weapons
Assassination deposit
As part of Operation Commodore, prosecutors said, undercover agents had bought thousands of ecstasy pills, raw MDMA and dozens of grams of cocaine.
During their undercover work, it is alleged one of the suspects hired them to commit an assassination and paid a deposit for the job.
Searches of the men's homes led to the confiscation of external hard drives and USB sticks, suggesting the potential for follow-up arrests.
This is not the first time the Dutch authorities have targeted a Tor-based service.
In 2011, the police infiltrated sites used to distribute about 10,000 photographs showing child sex abuse. Amsterdam-based care worker Robert Mikelsons was subsequently sentenced to 18 years in prison for abusing dozens of youngsters.
While it is not yet known if any arrests have been made in the latest case, DeepDotWeb told the BBC there were still several other Tor sites promoting the sale of illegal goods.
"We just counted about 29 active markets, including specific vendor shops but excluding some others that have not yet been verified or are still under construction," said the news site's owner, who asked to remain anonymous.